Target Has a Bull's-Eye on Its Back
(Bloomberg Opinion) -- If you had told me even a year ago that I would soon see Target Corp. deliver a 5.1 percent increase in comparable sales over a year earlier, I don't think I would've believed you. And if you also told me that Wall Street's response to that kind of growth would be to slam the big-box retailer's shares, then I really would have had my doubts. But that's exactly what happened Tuesday morning.
Target reported a strong increase in third-quarter comparable sales that continued its momentum from the second quarter, when it posted its best growth on this measure in 13 years. The market reaction? The stock slumped more than 10 percent in early trading.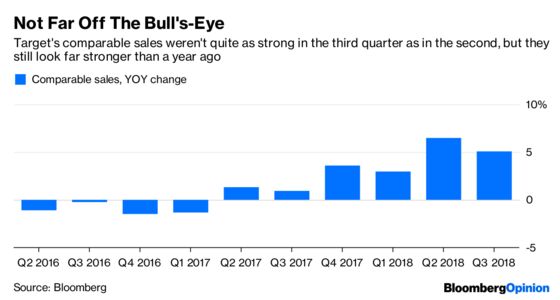 Target wasn't not alone Tuesday in getting snubbed by investors despite a solid quarter. Kohl's Corp. reported that comparable sales rose 2.5 percent from a year earlier and managed to expand its gross margin. The department-store chain also raised its full-year earnings guidance, and yet its shares were hammered.
It's a fitting emblem of where we are in retail's big transformation and the economic cycle. Investors know the consumer backdrop is extremely favorable right now. They saw chains like Target, Walmart Inc. and Macy's Inc. reap the benefits earlier this year with improved sales growth, and they've moved the goal posts accordingly. Now, as concerns mount in the broader market about the possibility that corporate earnings have peaked, investors are less willing to reward a good performance, and much less tolerant of any signs of backsliding. But here's where some perspective is warranted.
The Target sell-off looks to be fueled by concerns over its gross margin, which came up short of analysts' expectations. I understand the trepidation to a certain extent. Gross margin was 28.7 percent in the quarter, compared with 29.6 percent in the same period last year. That's not a small difference. 
But, as always, I think the reason for the decline is important. Target said much of the pressure came from increased fulfillment costs for online orders. And that makes sense given the company recorded a blockbuster 49 percent increase in e-commerce sales over a year earlier in the quarter.
If I were an investor watching this company try to inoculate itself against the threat of Amazon.com Inc., I'd be cheered at this point that it is claiming some turf online and would worry about the dent that makes in profitability later. Amazon already claims about 50 percent of the dollars spent online in the U.S., so old-school retailers need to hustle to grab market share.
And there are other factors that, while not called out by Target as fueling the margin pressure this quarter, should affect our view of its profitability. For example, it is gunning hard for the business of one-time Toys R Us and Babies R Us shoppers, and baby and toy products tend to have lower margins than, say, apparel. Would investors really prefer that Target didn't chase those billions worth of toy and baby sales because they're less profitable? I don't think so.
Target also has expended significant effort trying to burnish its reputation as a place for low prices. And according to research by Bloomberg Intelligence, it has been closing its price gap with Walmart: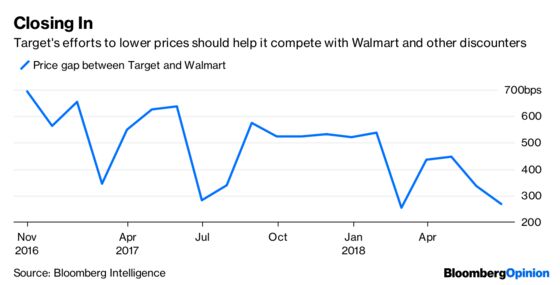 These kinds of initiatives may make it difficult to grow its margins in the near-term, but I suspect they will be important to securing the retail giant's long-term staying power.
Target is in good shape headed into the holiday season. The company said it gained market share in all five of its core merchandising categories. It continued opening its small-format stores, which it has said are highly productive selling locations. 
The company, like its peers, just has a bull's- eye on its back — thanks to Wall Street's high expectations.
This column does not necessarily reflect the opinion of the editorial board or Bloomberg LP and its owners.
Sarah Halzack is a Bloomberg Opinion columnist covering the consumer and retail industries. She was previously a national retail reporter for the Washington Post.