Taiwan's January Export Orders Jump 49%, Beating Estimates
(Bloomberg) -- Overseas orders placed with Taiwanese exporters surged by the most in 11 years in January as global demand for semiconductors shows no sign of abating.
Export orders rose 49.3% to $52.7 billion in January, Taiwan's Ministry of Economic Affairs said Wednesday. That was the biggest increase since January 2010 and compares to a median estimate of 45% in a Bloomberg survey of economists.
The increase marks a third straight month of strong, double-digit growth and the 11th monthly increase for export orders as manufacturers of everything from smartphones to autos scramble to secure a stable supply of semiconductors. The ministry expects orders to rise between 43% and 48.2% in February.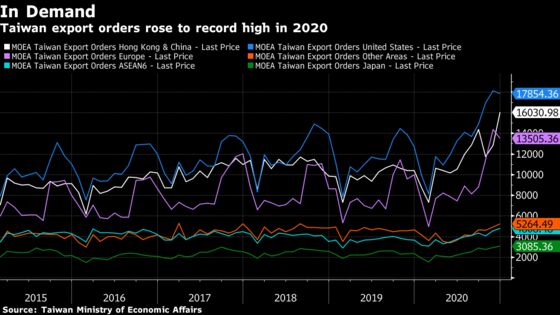 Officials from the U.S., Japan and Europe have sought the Taiwanese government's help in recent weeks to resolve the chip shortage that's hindering their automotive manufacturing. The world's largest contract chipmaker, Taiwan Semiconductor Manufacturing Co., plans to increase capital expenditure this year to as much as $28 billion to help address the shortage.
The government delivered a bullish economic outlook for 2021 on Saturday, forecasting exports would likely rise almost 10% throughout the year, fueled largely by demand for chips.
Officials also warned however that this may well put further upward pressure on the Taiwan dollar. The currency has appreciated 8.5% against the U.S. dollar over the past 12 months.