Taiwan Dodges the Worst Economic Impacts of Coronavirus
(Bloomberg) -- Taiwan's export-dependent economy shrugged off some of the effects of the coronavirus outbreak and kept expanding, although with the global economy in recession its unclear how long that can last.
Gross domestic product grew 1.54% in the first quarter, according the statistics bureau Thursday. Economists had forecast an increase of 1.7%.
Growth in the first quarter was weaker than estimated due to Covid-19, which led to weaker-than-expected private consumption, government

statement said

.

Private consumption fell 0.97% in the quarter, the first decline since 2009.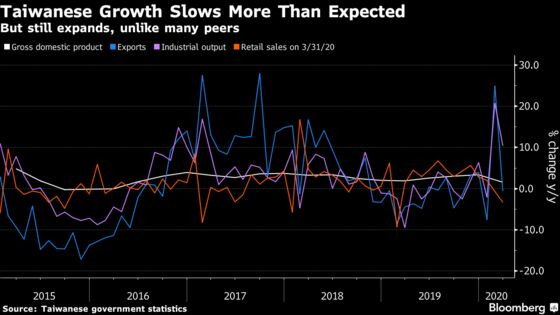 The economic impact of the outbreak is relatively milder than in neighboring countries due to Taiwan's better virus prevention measures, the ongoing shift of the supply chain out of China and strong semiconductor orders, said Huang Wei-jie, senior executive officer at the Department of Statistics.
"South Korea's exports will likely fall significantly in April. This will provide a signal to Taiwan, which also relies on exports," said Angela Hsieh, an economist at Barclays Bank Plc in Singapore, in a telephone interview. "But judging from Taiwan Semiconductor Manufacturing Co.'s recent results briefing, things might not be that bad for Taiwan. In 2Q we'll have to see if Taiwan's electronics sector remains as strong as in 1Q. Right now, it looks like it will be better than South Korea's."
Taiwan will likely fall into recession with full-year growth declining 2.1%, Morgan Stanley economists Deyi Tan and Jin Choi wrote in a note after GDP was released Thursday. "Even though Taiwan's Covid-19 situation appears to be contained, we expect Taiwan's GDP to weaken further into 2Q 2020, as the escalation of Covid-19 in the rest of the world is likely to weigh on its exports, with spillover implications to domestic demand."
More than 227,000 people worldwide have died of Covid-19 since the outbreak began in December. Taiwan has so far reported six deaths from 429 cases in total.
S&P Global Ratings reaffirmed its long-term AA- rating for Taiwan ahead of GDP, citing its "dynamic and highly competitive" electronics manufacturing sector as a likely driver for a strong economic recovery after the outbreak recedes. "Surging demand for these technology-intensive chips, including from 5G network deployment, big data processing, analytics, and artificial intelligence, will drive investment growth and economic activity."
Taiwan's national statistics chief told lawmakers in Taipei last week that the economy would likely grow between 1.3% and 1.8% this year, with the virus wiping as much as 2.3 percentage points off GDP growth.
Taiwan's largest company, Taiwan Semiconductor Manufacturing Co., reassured investors earlier this month it is sticking with plans for

up to

$16 billion in capital investments in 2020, fueled by robust demand for high-end semiconductors used in datacenters.
China's earliest official data for April showed the domestic economy continued its recovery from March, but with other parts of the world still on lockdown, weak demand from overseas weighed on that rebound.
With Thursday's release, Taiwan avoided a similar fate to South Korea, which suffered its worst contraction since the global financial crisis. GDP there fell 1.4% in the first quarter.