Taiwan Banks, No. 2 in Asia Dollar Loans, Discuss Libor End
(Bloomberg) -- Banks in Taiwan, along with the rest of the world, are preparing for the phasing out of the current benchmark interest rate for U.S. dollar lending.
It's a bigger deal for them than for many, as they account for the second-biggest total in the Asia-Pacific region, by one count. The following shows the state of play of the situation for the three Taiwanese players.
The London Interbank Offered Rate is being phased out, facing an end-date of the close of 2021. The international banking community has been ironing out the details of how to transition to SOFR (Secured Overnight Financing Rate), which is based on actual transactions, rather than on estimates.
Taiwanese banks hold about $19.2 billion of Asia-Pacific dollar loans that mature beyond the end of 2021, according to data compiled by Bloomberg based on loans with lender-commitment data.
That's the second biggest, behind China and ahead of Japan, among Asia-Pacific banks on loans syndicated in that region. As those loans are currently based on Libor, some transition will be needed for post-2021.
Taiwan's central bank and Financial Supervisory Commission in late February asked the Taiwan bankers' association to form a task force to study measures that will need to be taken.
Most Taiwanese banks are already conducting impact assessments, according to Eric Lin, of counsel at PricewaterhouseCoopers Legal in Taiwan but it's hard to tell right now whether Taiwan can make a smooth transition.
"The only thing we can be sure of is that banks need to conduct periodic impact assessments, start trading SOFR products instead of ones linked to Libor to reduce their exposure, and remediate their legacy Libor contracts," he added.
Other challenges faced by banks include client communication, modifying IT systems, risk assessment and interest-calculation models and related accounting and tax issues, Lin said.
Taishin International Bank remains concerned about making commitments given a lack of international consensus about how to conduct the transition in practice to a new benchmark that's not currently widely used.
While significant players, Taiwanese financial institutions aren't able to lead the global transition, according to emailed responses to questions from the bank's communications office.
Taishin will continue to monitor efforts from other central banks and authorities, and to adjust the scheduling of its own transition plan under way based on market needs.
Taishin hopes Taiwanese regulators can provide guidelines on transition work and a template for client communication.
The gap between interbank overnight rates being phased out and the risk-free rates such as SOFR may fluctuate significantly amid the current coronavirus strains, which will increase market concerns.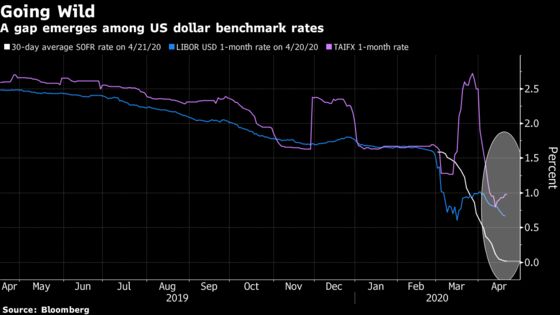 Mega International's Take
Mega International Commercial Bank Co. cautioned that the transition from Libor in the market hasn't progressed as quickly as expected. The bank urges Taiwanese regulators to conduct public consultations and hold meetings with relevant market stakeholders to gather suggestions and feedback, it said in emailed responses to questions from the bank's communications office.
While SOFR has many advantages over Libor and has been seen as the best alternative in the transition phase, TAIFX -- the rate at which Taiwanese banks lend U.S. dollars to each other within Taiwan -- could be representative for Taiwanese financial institutions' dollar business. Taiwan's regulators haven't decided on whether the entire local financial sector should use the same alternative reference rate.
If the regulators can study suitable alternative reference rates for replacing Libor and establish a transition plan for local financial institutions to conduct early risk assessments and related planning, it would help reduce uncertainty in the market.
Cathay United Bank Co. said the bank's transition plan must, aside from meeting Taiwanese regulatory requirements, work with schedules set by overseas authorities such as those in Hong Kong and Singapore. Plans need to be flexible, as there continue to be many uncertainties, including whether Taiwanese authorities will announce a standard of procedure to drive the transition, the bank said in emailed responses to questions.
The main bottleneck is the lack of a standardized methodology for applying an alternative reference rate, whether through spread adjustment, term structure, or compounding.
Taiwan's public and private sectors have been relatively slower than Hong Kong and Singapore in promoting reforms.
Cathay United plans to complete related system upgrades and internal training for the Libor transition by the fourth quarter of this year, followed by education and training of clients and renewal of contracts.
Taiwan's Financial Supervisory Commission banking bureau said, in response to a request for comment, that while the FSC and central bank will help guide banks with the Libor phase-out, lenders should also take countermeasures themselves, along with other steps including reviews of related internal contracts.