Switzerland Cuts Growth Outlook, Feeling Pain of German Slowdown
(Bloomberg) -- The Swiss economy will grow less quickly than previously anticipated, hamstrung by the global downturn, and stands to lose even more pace if the international trade dispute worsens.
Citing a "much gloomier" outlook for Europe, particularly Germany, the State Secretariat for Economic Affairs trimmed its 2019 forecast to 1.1 percent from 1.5 percent in December. The Swiss National Bank will update its growth and inflation forecasts next week.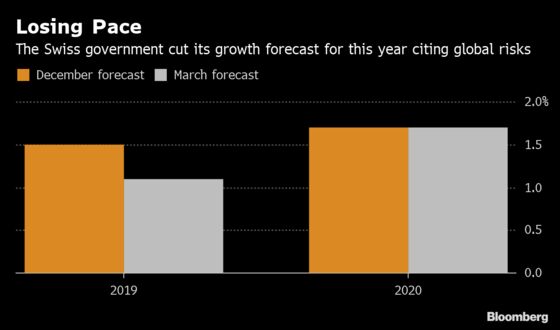 "International demand for Swiss products is weaker and the export economy is losing momentum," which is also causing local companies to hold off on investment, the government's group of experts said. "If the trade dispute between the U.S. and other major economic areas were to intensify further, the global economy and world trade would cool off more strongly than assumed in this forecast."
Thursday's downgrade is the first take by an official institution in Switzerland following the barrage of weak economic data across major economies since the start of this year. Though there have recently been signs of a modest improvement in some numbers, the outlook for this year has still deteriorated.
The SECO kept its forecast for expansion of 1.7 percent in 2020 unchanged, saying it expected the global economy to regain momentum in 2020.