'I Don't Lie,' Says Top Swiss Prosecutor Facing FIFA Probe
(Bloomberg) -- Swiss Attorney General Michael Lauber, reacting for the first time to the news that he faces a disciplinary investigation into his conduct during a probe into corruption in soccer, said he didn't lie and will challenge any accusations made against him.
The Supervisory Authority of the Office of the Attorney General will commission an outside expert to help determine whether Lauber violated his obligations in the course of his investigation of the sport's world governing body FIFA, the watchdog said in a statement Friday afternoon. The oversight body said it will not communicate further until its investigation is complete.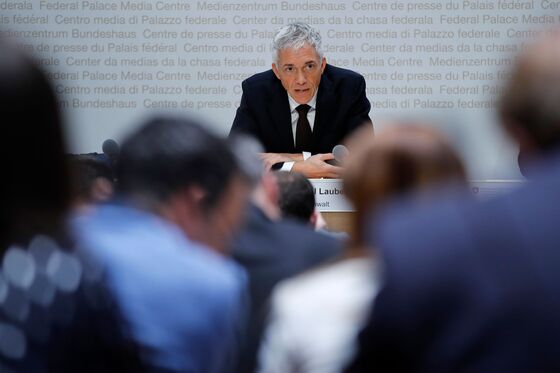 Swiss prosecutors have been working with their U.S. counterparts on a sweeping criminal probe into corruption in the game ever since a series of dawn raids stunned soccer executives on the eve of a FIFA congress in Zurich in 2015. The fact Lauber, who has been Swiss attorney general since 2012, held two undisclosed meetings with Infantino in Zurich and the Swiss capital Bern in 2016 prompted widespread speculation as to their motivations.
"I'm shocked by the opening of the investigation," he told reporters in Bern Friday afternoon. He said he will fight the accusations made against him. "I don't lie and I don't conceal," he said. "It doesn't make sense to conceal a meeting. Those meetings were necessary for legal proceedings."
A third meeting with Infantino in 2017 that Lauber did not immediately admit to prompted more concern for the watchdog. Of particular interest was the fact that Lauber could not apparently recall having the meeting, according to an interview he gave to Swiss radio.
Lauber confirmed he will seek a third term later this year and said that while he still trusts Swiss institutions, he no longer has a trusting relationship with the oversight body.
The watchdog last month rebuked Lauber's behavior in the FIFA matter, saying that with immediate effect all interviews that are part of a criminal probe must be recorded to include "place, time, date, description of the functions of the persons present, purpose and essential content of the interviews."
He said he takes responsibility for the way those meetings were held. "I accept the regulator's recommendation regarding the lack of documentation."