Swiss Manufacturing Activity Contracts for First Time Since 2015
(Bloomberg) -- Go inside the global economy with Stephanie Flanders in her new podcast, Stephanomics. Subscribe via Pocket Cast or iTunes.
Activity in Switzerland's industrial sector sank to its lowest since 2015, suffering the knock-on effects of weaker demand elsewhere in Europe.
The procure.ch Purchasing Manager's Index slipped to 48.4 points in April, clocking in below the mark that separates growth from contraction for the first time in nearly four years.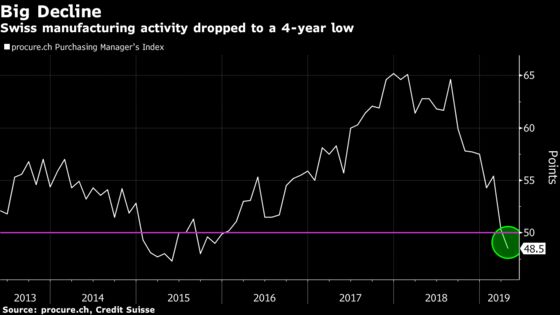 The euro area, Switzerland's top destination for exports, has suffered an economic slowdown alarming enough to prompt the European Central Bank to reactivate stimulus. Yet resilience in France and a pickup in Spain have provided bright spots to the picture.
Unlike in 2015, when Swiss manufacturers were contending with a sudden appreciation of the franc, the situation is different today. With employment and stocks of purchases rising, there is no sign of manufacturers bracing for a "prolonged slum in demand," the PMI authors said.