Asset Managers Are More Pessimistic Than Ever on the Swiss Franc
Asset managers have never been as pessimistic on the Swiss franc and it seems they see little reason to change tack.
Faced with a central bank in no hurry to raise rates and a dwindling need for havens amid improving market sentiment, the franc tumbled last month, spurring analysts to reconsider any bullish calls. UBS Global Wealth Management, one of the largest fund managers in the world, remains underweight the currency.
"The risk-on mood hasn't helped some traditional safe havens like the Swiss franc," according to Mark Haefele, chief investment officer at UBS Wealth Management. "We expect weakness in the Swiss franc versus the euro to continue in the months ahead, as the Swiss National Bank waits for its European counterpart to raise rates."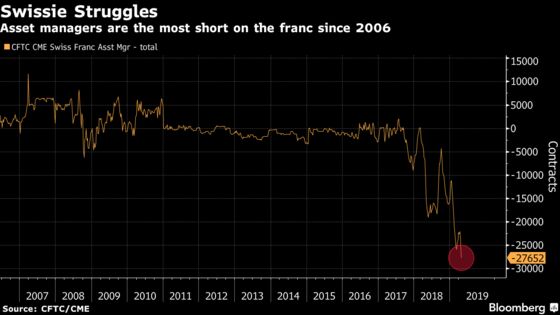 The franc is one of two Group-of-10 currencies to have weakened against the euro this year, following a 2.4 percent drop in April - a decline unmatched since July 2017. Data released Monday showed asset managers were the most net short on the franc in the week ended April 23 since at least June 2006, when records began.
Haefele said UBS preferred the euro and the Norwegian krone to the franc, and that they were underweight Swiss stocks versus Canadian and emerging-markets equities.
Nordea Bank ABP strategist Andreas Steno Larsen said a stabilization in euro-area momentum will limit the need for shelter in the franc. "It made sense for market participants to increase short bets in the franc at levels above 1.10, as the SNB seems very eager to safeguard that EUR/CHF doesn't drop below that level," he said, adding the pair could touch 1.16 in the three- and six-month horizon.
The franc was at 1.1420 to the euro as of 9:40 a.m. in London Thursday. The currency has depreciated after touching a 20-month high near 1.11 per euro in late March.
The SNB has kept its deposit rate at minus 0.75 percent since 2015, the lowest of any major central bank, and its President Thomas Jordan said last week he has no plans on scrapping its negative-interest rate policy as that could drive the currency higher.