Swiss Franc Momentum Tracks Virus Concerns to Reach 2015 Levels
(Bloomberg) -- The Swiss franc hasn't faced this much demand since the Swiss National Bank famously abandoned the currency's cap against the euro five years ago, according to key technical analysis.
An indicator of whether the franc is overbought against the common currency moved below 10 this week for the first time since January 2015, when the central bank triggered one of the biggest shakeups in foreign-exchange history.
This time around haven demand fueled by the coronavirus has helped strengthen the currency. So too have signs that policy makers are taking little action to contain the franc's advance after the U.S. complained about Switzerland's currency policy. Signals that the European Central Bank is in no rush to tighten monetary policy have pushed up the currency by keeping pressure on the euro.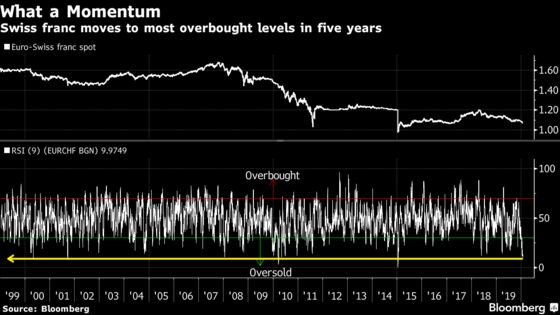 The relative strength index, or RSI, is a technical momentum indicator that shows whether one currency is overbought or oversold against the other. For the euro-franc pair on a nine-day basis, it moved this week below the 10 level. The euro has reached oversold territory only a handful of times since it was introduced as an accounting currency in 1999.
In theory, such levels are unsustainable and are either followed by a rebound in the pair, or at least a consolidation period. A reversal signal is said to be generated when the index moves above 30.
Options gauges suggest investors are skeptical that demand for havens will last. One-month risk reversals, a barometer of positing and sentiment, are almost unchanged since mid-November, when the franc was weaker. Yet should coronavirus concerns intensify, a turnaround in euro-franc RSI may take time to materialize.
Read more:
Swiss Franc's Rally Yet to Extend to Forward Options Bets: Chart
NOTE: Vassilis Karamanis is an FX and rates strategist who writes for Bloomberg. The observations he makes are his own and are not intended as investment advice