Swiss Franc Hits Highest Against Euro Since 2015 on Covid Surge
The Swiss franc hit its strongest level against the euro in more than six years as a renewed surge of Covid-19 infections in Europe buoyed demand for haven assets.
The Swiss currency climbed as much as 0.1% on Thursday, briefly pushing it through the 1.05 psychological resistance level against the common currency. That move briefly put the pair at its lowest since July 2015, before reversing course and heading higher.
Traders have piled into the haven currency as Europe appears to be on the brink of a fourth wave of Covid-19 infections. Germany, the region's largest economy, reported record new infections per 100,000 inhabitants this week. Austria, meanwhile, enforced a lockdown for people who haven't been vaccinated, part of a series of stricter curbs in Europe to get the pandemic under control.
"The reality is that we continue to be a safe-haven currency," Swiss National Bank Governing Board Member Andrea Maechler said last week. The franc is headed for a fourth year of gains against the euro.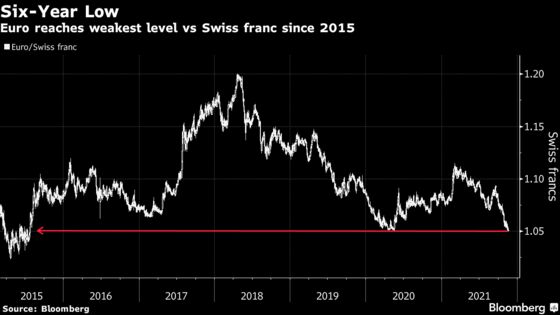 Another move through 1.05 per euro could provoke an intervention response from the SNB, whose policy it is to buy foreign exchange as needed to ensure monetary conditions remain adequate. Any activity probably wouldn't show up in the sight deposit statistics until the week after next, however.
"Traders are keen to find the pain point for the SNB and it seems they just found it at 1.05, precisely where it was last year," said Erik Nelson, a currency strategist at Wells Fargo Securities in New York. 
On top of the SNB's possible intervention, widening European spreads have helped put downward pressure on the pair, since it is often linked to sentiment on Euro-centric issues, Nelson said. 
"The recent widening in peripheral spreads is by no means an existential concern for Europe, but the move is still noteworthy enough to move the needle," he said. 
Because of strong currency, Switzerland has been spared the spike in inflation seen across other advanced economies. The average rise in prices is due to remain within what the SNB's 2% parameter for price stability this year.