Swiss Dodge EU's Stock Exchange Bullet Yet Brace for More
(Bloomberg) -- Switzerland's move to prevent its stock exchange from being cut off from European Union investors may have bought it some reprieve.
Yet even as the plan unveiled on Friday was greeted warmly by companies, the country is bracing for further reprisals if a political impasse with Brussels isn't sorted out. As the EU assesses Switzerland's latest move, officials in Bern are worried. Newspaper Tages-Anzeiger pointed to a paper listing more than two dozen possible punitive steps making the rounds in the Swiss capital.
"I don't think there's any doubt that the EU will continue to play hard ball," said Jacob Funk Kirkegaard, a senior fellow at the Peterson Institute for International Economics. "I'd expect the EU to announce more measures."
For now, companies are hoping the government's plan will provide some stability. UBS Group AG, the country's biggest bank, said it welcomed the government's move, which essentially exploits a loophole in EU regulation so that Switzerland's stock exchanges won't suffer a drop in liquidity even if they lose equivalence under MiFID II next year.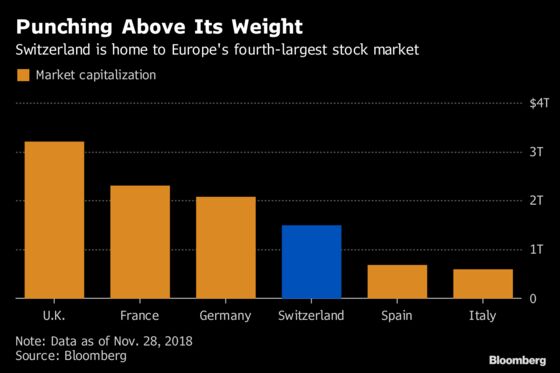 Both the Swiss Bankers Association, which represents the country's 250-odd banks, and the federation of multinational corporations, whose members include pharmaceutical heavyweights Roche Holding AG and Novartis AG, and KitKat-maker Nestle SA greeted the government's plan positively. As did other companies.
Given that about 85 percent of its trading volume came from the Zurich bourse SIX or over-the-counter trades, "we are not very worried," said Rainer Weihofen, a spokesman for Sulzer AG.
Yet the backstop is only the latest twist in a year-long game of brinkmanship between Switzerland and the EU over a "framework" agreement to supplant the amalgamation of 120 treaties that now govern relations. The bloc is also in the midst of Brexit negotiations, leaving it in no mood to grant Bern any concessions.
The EU made clinching an agreement a prerequisite for further recognition of the Swiss bourse under MiFID II, but the deal is currently opposed by parties on both sides of the political spectrum in Switzerland. For one, because labor unions fear it'll put pressure on salaries.
On Dec. 7, the seven-member Swiss government, which deliberates in secret, intends to announce its stance on the accord.
There is no majority in its favor, newspaper Tages-Anzeiger reported. Yet without at least some kind of detente between the two sides, officials in Bern are concerned about more pain, the paper said, citing unidentified people.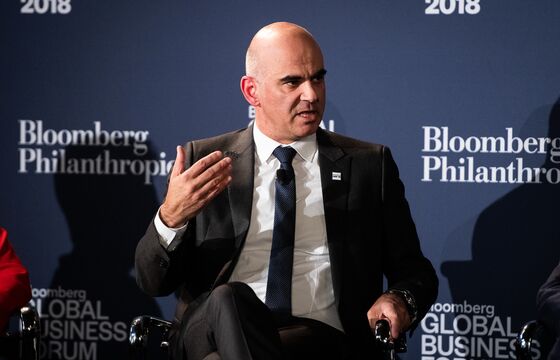 Though technical discussions on the accord are finished, Swiss President Alain Berset will try to talk with EU Commission President Jean-Claude Juncker in an 11th-hour attempt to achieve a breakthrough, Tages-Anzeiger also said.
As for Brussels, the European Commission has noted the Swiss counter-measures, and "will take a look at possible future steps" in the coming days and weeks, a spokesman Margaritis Schinas said on Monday.
Business lobby economiesuisse wants the government to agree to the framework deal and then let Swiss lawmakers haggle over it, to give any yes or no a broader backing, newspaper SonntagsZeitung said. Another option would be for the government to go for some kind of fudge that neither accepts nor rejects the agreement, in a bid to win time.
Among market participants, the view is that Switzerland has ensured the smooth functioning of its stock exchanges -- Europe's fourth biggest.
The government's countermeasure "will create a bit of volatility for a while, but the system should be viable," said Karim Bertoni, head of Swiss research at Stanhope Capital in Geneva.