Swedish Unemployment Rate Rises as Employment Growth Slows
(Bloomberg) -- Sweden's unemployment level rose again in February as job growth slowed amid a cool-down in the Nordic region's largest economy.
The seasonally-adjusted rate rose to 6.2 percent from 6 percent in January, Statistics Sweden said on Thursday. That matched estimates by economists.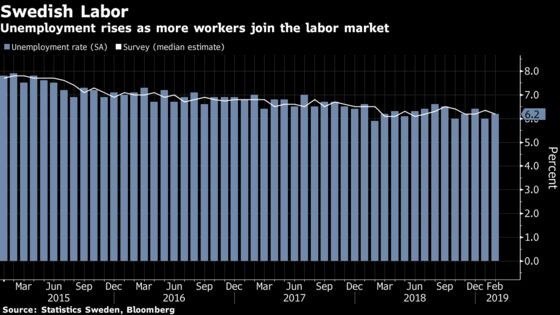 The labor force grew by 5,000 people to 5.5 million in February, roughly matching the growth in employment, according to seasonally adjusted and smoothed figures.
The jobs report offers mixed signals about the strength of the economy and comes on the back of recent data indicating a slowdown. Consumer confidence is near a six-year low amid a drop in housing prices and turbulent equities markets.
Prime Minister Stefan Lofven's government faces pressure from two centrist allies to ease labor market regulations. The IMF says Sweden should find ways of boosting employment levels among low-skilled workers and immigrants.
The central bank aims to end negative rates by the end of the year, but weaker-than-estimated inflation is raising doubt about the plan.
The krona slid 0.2 percent to 10.539 per euro as of 11:08 a.m.
Michael Grahn at Danske Bank said the February figures show that the "Swedish labor market still looks fine," although "employment growth appears to slow, both in terms of the number of people and working hours."
Economists at SEB said that "despite signs of slower employment growth, we continue to be more optimistic than the Riksbank and forecast that unemployment will level out slightly above 6 percent this year."
Swedbank economist Knut Hallberg described the data as disappointing. "Unemployment slightly higher and employment growth lower than expected. But January and February taken together more or less in line with Riksbank's forecast," he said.
For more details, see this table