Swedish Online Gambling Firm in Hiring Spree to Keep Growth Pace
(Bloomberg) -- Kindred Group Plc plans to boost its employee count by as much as 14 percent next year as the Swedish online gambling operator seeks to keep up its rapid growth pace of recent years.
The company's revenue has grown by about 25 percent annually on average in the past seven years, driven by its betting products for sports such as football, ice hockey and racing. In an interview in Stockholm, Chief Executive Officer Henrik Tjarnstrom said he plans to "more or less" maintain that growth pace also in coming years, but that he needs more employees to do that.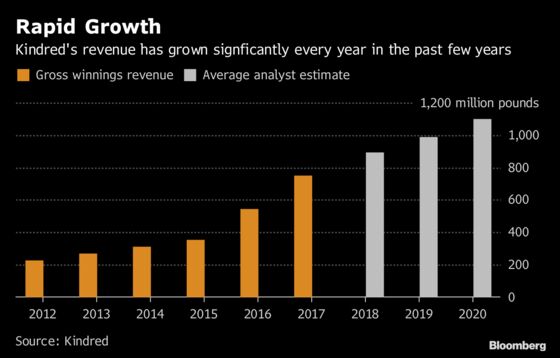 Kindred employed 1,425 people at the end of the third quarter and will add as many as 200 employees next year. Many of them will be hired in Sweden, where Tjarnstrom expects the staff count to grow from 300 currently to about 400 next year and to as many as 700 in the next couple of years.
But finding all those employees won't be easy in a country where most job sectors are suffering from massive labor shortages, especially in technology and digital jobs. What's more, Kindred doesn't just compete with other gaming operators in the labor market, it also faces global tech giants such as Spotify Technology SA and Google that are targeting the same type of employees.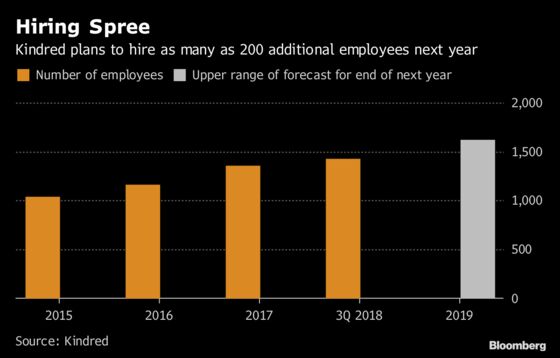 To accommodate all its new employees, Kindred plans to move to a bigger office space in Stockholm in April. The more central city address is also needed to maintain a competitive edge versus competitors, said Tjarnstrom. The new Stockholm office will be next door with Spotify and other tech companies that have all created a "tech cluster," he said.