Swedish Debt Office Keeps Faith in Its Krona Bet Paying Off
(Bloomberg) -- Unlike many in the market, Sweden's Debt Office isn't giving up on the nation's currency.
The agency announced in May last year that it was taking a position on the krona to strengthen. So far that bet has gone the wrong way, with the currency down about 3 percent since after an accelerating decline this year.
"We'll hold it until it's positive," Hans Lindblad, the debt office's director general, said in an interview at his office in Stockholm on Wednesday. "The aim is to minimize costs and we're still of the view that the krona is too weak. When we exit the position, we will be transparent about it."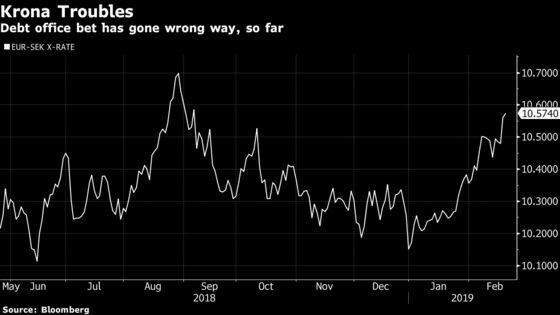 The krona has been hammered this year amid signs economic growth is cooling and speculation grows that the central bank won't be able to lift interest rates as planned again later this year.
The agency on Thursday revealed that it had amassed a bet of 3.9 billion kronor against the euro and can build that to at most 7 billion kronor. Before this year's krona slump, its position had yielded a 73 million kronor gain.
The agency's bet last year put it at loggerheads with the central bank, which has been seeking to keep the krona weak in order to allow for a pickup in inflation. But the position is probably less controversial now, with the krona being by far the worst performer among the so-called G10 currencies this year.
Even the central bank is growing hesitant about its weakness. Riksbank Deputy Governor Martin Floden said in a speech on Wednesday that at this point he doesn't welcome a weaker currency, even though it will likely help push inflation higher.
According to Lindblad, the currency should strengthen given that the Swedish economy is "fundamentally strong," the country has healthy public finances and a current account surplus.
"The state's comparative advantage is that we can wait," he said. "We expect it to strengthen."