Swedish Data Surprise May Not Give Krona Much Shine Back for Now
(Bloomberg) -- Sweden's krona rallied on data showing the economy recovered last quarter, but that still doesn't improve the outlook materially for this year's worst-performing major currency, according to analysts.
The krona may advance only gradually as improving data are unlikely to make the central bank bring forward the next rate increase currently planned for the second half, some analysts say. It will also face near-term headwinds in the form of corporate dividend outflows to foreign investors.
The Swedish currency is on track for the biggest one-day gain this year versus the euro after data showed the nation's gross domestic product expanded 1.2 percent in the fourth quarter from the previous three months, beating the highest estimate in a Bloomberg survey. Separate figures showed retail sales expanded 0.8 percent in January, recovering from a contraction in December.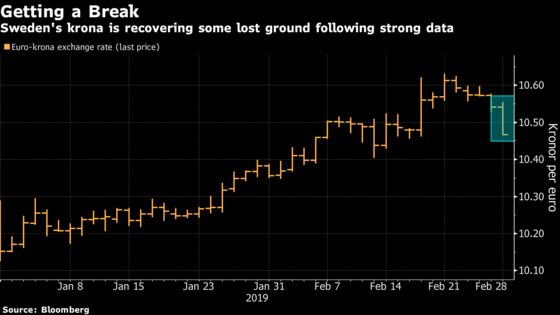 Below is a selection of analysts' views on the krona after Thursday's data:
"Our view going forward doesn't change much with this data. We stick to our forecast of a gradual strengthening of the krona," strategist Kiran Sakaria says
All in all positive signals for the Riksbank in today's Swedish statistics
Handelsbanken's forecast for the end of 1Q is 10.40 and that forecast is based on a rebound in Swedish data
"We expect any SEK strength to be short-lived. We still expect EUR/SEK to break above the post-crisis high of 10.7291 in the second quarter," says strategist Petr Krpata
Today's better-than-expected GDP figure doesn't mean the Riksbank should move sooner and still a hike in second half remains questionable
The case to buy the negative-yielding, high-beta krona remains low as it screens comparatively worse vs G-10 activity currency peers; Swedish PMIs should continue deteriorating and the krona has been losing support for declining current-account surplus
"The long-term trend in EUR/SEK may be higher, but for now we are looking for some more downside," analyst Martin Enlund says
While the dividend season (starting in April) is one of many worrisome factors for the SEK, EUR/SEK still tends to drop in the first two weeks of March -- perhaps as companies first repatriate SEK in order to pay dividends
Since Sweden's CPIF data missed expectations last week and EUR/SEK subsequently spiked above 10.60, BBVA has argued that the SEK selloff looks relatively overdone in comparison to pretty solid fundamentals domestically, says strategist Alexandre Dolci
A superior outlook for Sweden vs the EMU is the backbone of BBVA's constructive view on the SEK over the EUR, and today gives further empirical evidence of these stronger developments in Sweden
Says: "Our forecasts look for EUR/SEK to gradually fall below the 10 mark in the second half, even though one may be tempted by quick profit if the pair returns to our February target of 10.40"
Incoming data must stay constructive in order to lower investors' skepticism in the Riksbank's determination to hike rates anew
"This still remains our view and that is the underlying reason of sticking to a long-term positive outlook," says strategist Manuel Oliveri
However, it appears unlikely that EUR/SEK can move considerably below 10.50 in the short-term as more clarity when it comes to external demand conditions may be needed
Credit Agricole's March EUR/SEK forecast is at around 10.50 and by year-end, the bank sees the cross approaching 10.00 and below
The break of 10.50 is fair, and we think it could drop further: analyst Stefan Mellin
Danske Bank's 1-3-month target remains 10.40
A genuinely strong GDP number which showed better than expected private consumption, better than expected net exports and lower than expected boost from inventories; the data gives support to the Riksbank narrative that the economy is strong
The string of worse than expected data from late December to mid-February that helped push EUR/SEK to 10.60 has now turned around as the macro surprise index for Sweden reached rock bottom. Lately industrial production, NIER economic confidence survey and GDP have all surprised to the upside, lending some welcome support to the SEK