Swedish Builder Sidesteps Trump in Bid to Make U.S. Green Again
(Bloomberg) -- One of the biggest contractors in the U.S. is a Swedish company called Skanska AB. And one of the biggest opportunities it says the U.S. market offers right now is the potential to do a lot more green construction.
Lena Hok, Skanska's senior vice president sustainability, says there are plenty of ways to promote a green business agenda in the U.S. even if President Donald Trump has said he plans to exit the Paris climate accord. Key to that strategy is to focus on individual states, after Skanska's analysis showed that 17 states have joined the U.S. Climate Alliance, a coalition committed to upholding the objectives of the Paris deal within their borders.
"On a federal level, the president has expressed his intention to withdraw from the Paris agreement, but our market analysis is focused on states," Hok said in an interview. "We see that there's a strong business case in the U.S. as well for a transition to an economy with lower carbon dioxide emissions."
Skanska says the proportion of its revenue derived from green construction has been growing in recent years, according to an internal tool it uses to measure the development. But by the same metric, the work it does in the U.S. is lagging behind its home market and the U.K.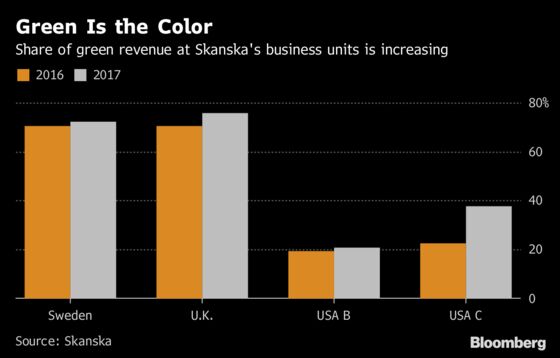 United Nations figures show that buildings account for as much as 40 percent of the world's energy consumption and cause about a third of greenhouse gas emissions (when both operational and embodied emissions are accounted for), according to Hok.
Keeping those figures in mind, the construction industry "has a huge possibility to impact by constructing green buildings," she said.
Skanska's green focus coincides with growing demand among clients. The allure doesn't only come from the satisfaction of saving the environment, but there's also a cost advantage to greener construction. Meanwhile, investors are keen to buy assets tied to green business ventures, and Skanska recently issued its second green bond.
Skanska's design of the 121 Seaport Boulevard building in Boston shows how the model works. The elliptical shape of the project shaves 15 percent off energy consumption due to less sun exposure, which lowers expenses. And with the shape also requiring less facade cladding and steel, the cost of construction was lower than with a regular angular design.
It's techniques like those that Skanska hopes will help it grab market share. "Are we leaders among our peers? I'll put it like Carlsberg: probably," Hok said.