Sweden to Ignore WHO Guidance on AstraZeneca Vaccine for People Over 65
(Bloomberg) -- Sweden will stick to its recommendation to not give AstraZeneca's Covid-19 vaccine to people older than 65, ignoring guidance from the World Health Organization, state epidemiologist Anders Tegnell said.
"If you only have that vaccine in a country, you should of course use it for people over 65," Tegnell told reporters on Thursday. "In Sweden, we have the luxury that we have several vaccines, therefore we think it is reasonable right now that we do as we thought we would have to do: direct the vaccine to different groups."
Similar to authorities in several European Union members, the Swedish Public Health Agency issued the recommendation last week, citing lack of data on the effectiveness of the vaccine in the older age group. It said it would revisit the decision "later in the spring."
While the AstraZeneca vaccine doesn't offer the same protection as the mRNA vaccine, Tegnell says it still "has very high protection" against serious illness and death.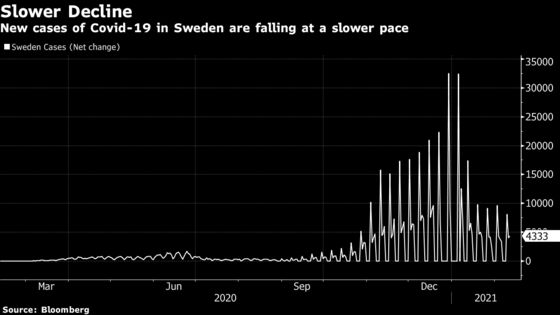 The vaccination rollout in Sweden has been off to a slower start than in many EU countries, and even Tegnell said earlier this week that it's getting harder to reach the goal of offering a vaccine shot to all adults who want one by the end of June. Still, Premier Stefan Lofven and Healthcare Minister Lena Hallengren stuck to the target when speaking to media on Thursday.
Sweden has so far seen 12,370 die as a result of the coronavirus, which is considerably higher than elsewhere in the Nordic region.
"We are still in a situation with a high virus spread," Tegnell said.