Sweden's Unemployment Rate Slows as Covid-19 Cases Accelerate
(Bloomberg) -- Sweden's unemployment rate defied expectations in October, dropping for a second month in a row amid a spike in registered cases of Covid-19 that has prompted tighter restrictions and clouded the outlook of the Nordic region's biggest economy.
The seasonally-adjusted jobless rate came in at 8.6%, down from a revised 8.9% a month earlier, Statistics Sweden said Thursday. Economists were expecting a reading of 9%, according to the median estimate of a Bloomberg survey.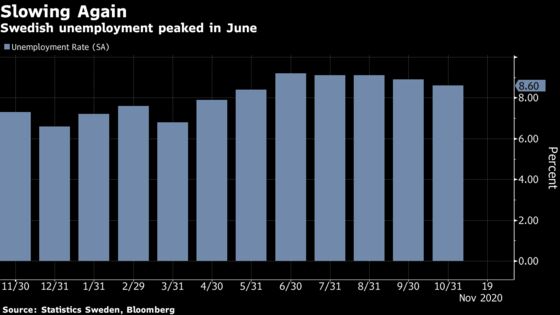 The unadjusted rate also slowed, to 7.8% from 8.3% in September.
According to Statistics Sweden, the numbers suggest "both employment and unemployment have stabilized" and that the labor market may be improving after June's jobless rate peak. But analysts and the government are all warning of darker clouds gathering on the horizon.
While the October data made for "very pleasant reading," recent developments on the coronavirus front mean the labor market will likely be "negatively affected in the coming months," Swedbank economists Knut Hallberg and Carl Nilsson said in a note.
What Bloomberg Economics Says...

"We expect the return of the virus to put a lid on the recovery in the labor market as new containment hits demand for labor intense services. Fiscal policy, such as the government's furlough scheme, is the best tool to cushion that blow and help the economy rebound in 2021."

--Johanna Jeansson, economist
Sweden avoided a lockdown earlier this year, but has now introduced its toughest restrictions yet to deal with the second wave of Covid-19. The government has put a cap of 8 people on public gatherings, has banned alcohol sales after 10 p.m and is urging Sweden's 10 million residents to avoid contact with people outside their households as much as possible.
Finance minister Magdalena Andersson said on Wednesday that the situation in the labor market remains "very serious" and that the government is actively looking at adding new stimulus measures.
According to Danske Bank Chief Economist Michael Grahn, October's "pretty decent" unemployment numbers may weaken the likelihood of a double-dip recession.