Kinnevik Faces Uncharted Territory After Turbulent Week
(Bloomberg) -- The Stenbeck family has spent decades enlarging the influence and wealth of one of Sweden's preeminent corporate dynasties by aggressively shaking up sectors from telecom to retail. But with the surprise departure of the clan's scion and a crucial deal collapsing in the space of a few days, its investment company is finding itself on the defensive.
Cristina Stenbeck, 41, announced her departure from the board of Kinnevik AB on Jan. 18. Four days later, a $7.6 billion plan to sell Millicom International Cellular SA, one of Kinnevik's biggest holdings, imploded. When Stenbeck leaves in May, the board will lack representation from the family that helped forge the company almost a century ago. The decision by cable billionaire John Malone's Liberty Latin America Ltd. to walk away from talks with Millicom denied Kinnevik a major financial windfall.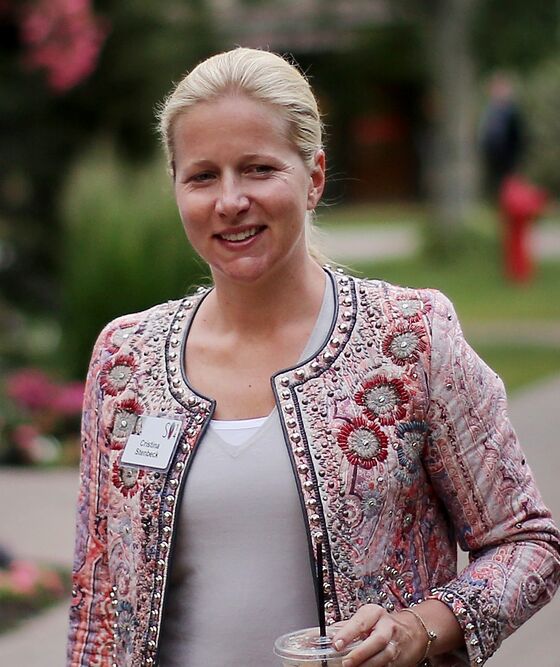 "Kinnevik has played a major role in Swedish business for three generations, and it won't do that in the fourth," Joakim Bornold, an investment adviser at Soderberg & Partners, said by phone. "They don't have the ambition to use the company as an instrument for power in the same way that it has been."
Kinnevik must decide what to do with its 38 percent stake in Millicom while considering its broader trajectory. A series of management and ownership changes had investors questioning Kinnevik's direction even before Stenbeck decided to leave the board.
The uncertainty has weighed on its market capitalization, which at about 62 billion kronor ($6.8 billion), is below the value of Kinnevik's stakes in its listed holdings, including Millicom, Nordic cable and mobile carrier Tele2 AB and online fashion retailer Zalando SE.
Stenbeck has said she will remain an active owner of the company. In an interview with Dagens Industri newspaper, Stenbeck said she'll have a freer relationship with the company that will allow her to make a broader range of investments.
A spokeswoman for Kinnevik said Stenbeck's departure from the board doesn't change the company's direction. Its official strategy is to back technology-centered challenger businesses in sectors including telecom, media and technology, e-commerce, financial services and health care with a focus on Europe -- particularly the Nordics -- and the U.S. The company declined to comment further on Millicom, about which it has said it would evaluate a concrete offer if one was made.
A tie-up with Liberty Latin America has long been speculated by investors and analysts, with the companies' footprints across Central and South America seen as a complementary fit. A deal is still logical over the long term and it may be premature to call the transaction dead, DNB Markets analyst Stefan Gauffin said in a note to clients.
If an outright sale isn't feasible, one possible avenue for Kinnevik is to distribute its holding in Millicom to its own shareholders. It's the path the Stenbecks took when they had to shift out of TV broadcaster Modern Times Group AB to gain competition authority approval for Tele2's purchase of cable company Com Hem AB last year.
The stock rose 1 percent to 227.20 kronor at 9:23 a.m. in Stockholm on Friday.
Cristina's father, Jan Stenbeck, used income from 19th century holdings in paper, iron and wood to catapult Kinnevik into TV and telecommunications in the 1980s and 1990s. After his sudden death in 2002, control of Kinnevik passed to Cristina and several of her younger siblings.
Through vote-heavy Class A shares, the Stenbecks and members of the two other founding families, the von Horns and the Klingspors, still control more than 50 percent of the votes in Kinnevik. What course will they plot in the future?
"The big question now is how Cristina Stenbeck's departure is going to affect Kinnevik's future," said Joacim Olsson, chief executive officer of the Swedish Shareholders' Association. "We can't exclude that a dismantling of Kinnevik lies in the cards. That creates a lot of unwanted uncertainty."