Sweden's Economy Expands Twice as Fast as Estimated to End 2018
(Bloomberg) -- Sweden's economy expanded twice as fast as estimated in the fourth quarter, recovering from a contraction in the prior three months and providing relief to the central bank as it seeks to bring interest rates back above zero.
Gross domestic product grew 1.2 percent in the fourth quarter and 2.4 percent from the year-earlier period, Statistics Sweden said Thursday. That beat the 0.6 percent quarterly rate predicted by both the Riksbank and economists surveyed by Bloomberg.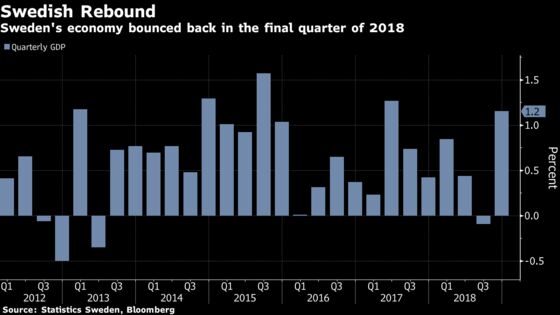 Fourth quarter growth was boosted by rising exports and consumer spending, while investments declined.
Challenges have been mounting for the Swedish economy after its longest uninterrupted expansion in at least four decades ended last year. Falling home prices are weighing on the housing market, a key driver of economic growth, and concerns over a global trade dispute have cooled exports.
The central bank raised interest rates for the first time in seven years in December and this month stuck to a plan to tighten again in the second half of this year, while acknowledging risks to global and domestic growth.
Sentiment has also deteriorated amid falling home prices and volatile stock markets and a protracted government crisis. Economic tendency surveys recovered some in February though, with consumer confidence rising from a six-year low.
Sweden's currency is this year's worst performer among major peers in response to the series of disappointing economic figures and growing speculation that the central bank won't be able to raise interest rates again later this year.
There was more good news for Sweden from retail sales data, which rose a monthly 0.8 percent in January, recovering from December's drop.
Michael Grahn at Danske Bank highlighted the rise in private and public consumption and net exports, arguing that the GDP data "gives some more ammo to the Riksbank."
Kiran Sakaria at Handelsbanken said Thursday's data from Statistics Sweden as "positive signals for the Riksbank."
Andreas Wallstrom, head of forecasting at Swedbank, said "today's figures support our view" of a Riksbank "rate hike in September."
The krona rallied as much as 0.52 percent on the news and was trading at 10.488 kronor per euro at 9:42 am
For more details, see this table