Betting Giant Says Swedish Market Not Big Enough for '70 of Us'
(Bloomberg) -- Sweden's AB Svenska Spel expects a wave of consolidation in the nation's gambling industry as the $2.5 billion market adjusts to new regulations and the state-owned casino operator moves more offerings online.
Patrik Hofbauer, chief executive officer of the gambling giant which competes with listed firms including Kindred Group Plc, LeoVegas AB and Betsson AB, expects that only some 5 to 10 of the about 70 companies granted licenses under the new regulations this year will prevail.
"Things will fall into place in the coming one to three years," Hofbauer said in an interview earlier this month at the company's office in Solna, north of Stockholm. "I find it hard to believe that there will be 70 companies in the future, as this business is driven by volumes."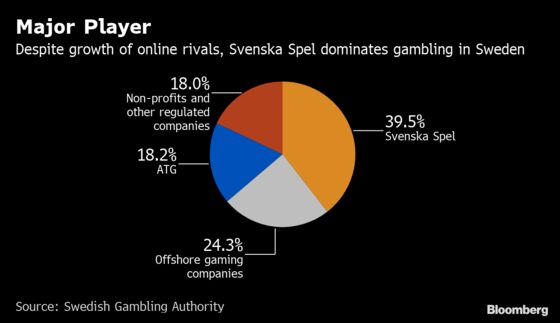 Deals have picked up recently, with William Hill's $320 million move for Mr. Green & Co. and a $1 billion buyout of Cherry AB by a group of investors.
New regulations in place since the turn of the year are now transforming 84-year-old Svenska Spel. The rules are an attempt at re-regulation after online gaming companies eroded the state's monopoly over the past decades. Private rivals, who have operated without legal rights to run gambling businesses in Sweden, will now be licensed at the same time as Svenska Spel is allowed to compete for online casino customers and offer more competitive betting odds.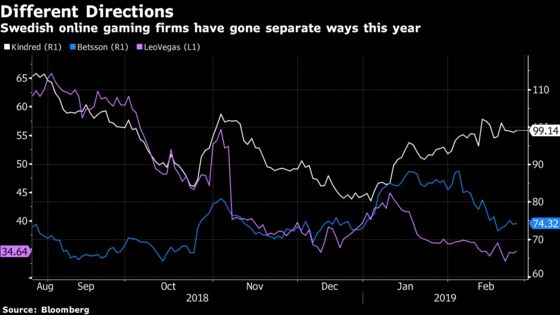 It already offers about 200 online casino games and plans to increase that number further. Starting at zero, customer growth has developed "more or less" according to plan, said Hofbauer, who joined Svenska Spel in December from a position as CEO of Norwegian mobile operator Telenor's Swedish unit.
Svenska Spel had a net gaming revenue of 8.8 billion kronor last year, a decline of 2.2 percent. Its online sales jumped 20 percent.
The move online is not without critics. Competitors are now filing complaints, arguing that the state-owned company, which holds monopolies for physical casinos and slot machines, shouldn't be allowed to use its brand to market its online betting and casino operations.
But Hofbauer says he's confident that the company's marketing is acceptable under the new regulation.
He and other industry executives were called to a meeting with Sweden's minister for public administration earlier in February to discuss the aggressive marketing campaigns that have been launched as gambling companies jostle for position after the re-regulation.
The proliferation of gambling sites has also made people more negative to the industry. Some 55 percent of Swedes now have a negative attitude versus 33 percent in 2011, the company said in its latest quarterly report.
Hofbauer said he expects the heavy spending on marketing to subside after the first half of the year, partly as a consequence of the 18 percent tax rate on net gaming revenue that the new regulation entails.
"The larger players are serious and have good intentions, but then there's always some luck seekers," Hofbauer said. "That will be settled over time."