Sweden Confidence Plunges to Record Low Amid Recession Fears
Confidence levels in Sweden plunged to record lows in April amid concerns that the coronavirus pandemic may push the Nordic region's biggest economy into its worst recession since World War II.
The Swedish overall economic tendency survey sank to 58.6, its lowest level ever, the National Institute of Economic Research said Thursday. Values below 90 are equivalent to a much weaker than normal economy.
The dire reading adds even more pressure on the Riksbank, which has already implemented a number of measures to support failing companies and has vowed to do "whatever it takes" to salvage the economy. Some economists say that may include a cut in interest rates at next week's policy meeting. Governor Stefan Ingves has in the past expressed reluctance at the idea of a return to negative rates after raising the policy rate to zero in December.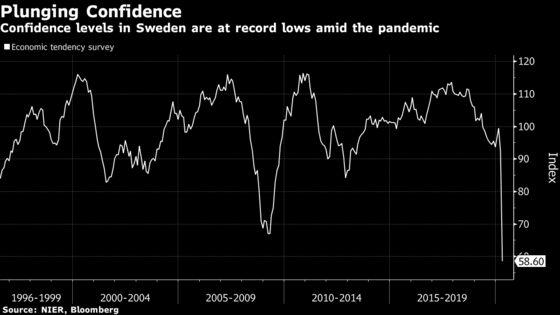 The overall economic tendency index fell 34 points, its biggest drop ever, from a revised 92.5
The consumer confidence index dropped to a 73.9, from a revised 89.4
The manufacturing confidence index dropped to 70.5, from a revised 100.8
Kiran Sakaria at Handelsbanken said the numbers "confirm that we're heading for the worst drop since at least World War II"
Manuel Oliveri at Credit Agricole said he wasn't hugely surprised at the reading, "as it is mirroring developments seen with key trading partners. Hence, unlikely to trigger bigger currency downside. Thats especially true as the Riksbank is nowhere close to consider cutting rates back into

negative territory

, a stance that should be reinforced when monetary policy will be announced next week"
Bloomberg economist Johanna Jeansson:

"It's an eye-watering drop in confidence with worrying signals for order intake and employment plans. The only silver-lining is that this slump could be short-lived if fiscal support helps businesses weather the storm until the pandemic passes"
The krona weakened as much as 0.23% and was trading at 10.9228 against the euro as of 9.22 a.m.