Surging Spreads Prompt More Italy Questions for ECB's Draghi
(Bloomberg) -- European Central Bank President Mario Draghi is facing a lot of questions on his home country these days.
Concern about Italy's expansionary fiscal plans -- and at times its future in the euro area -- have pushed yields to a multi-year high. With rising borrowing costs posing a risk for the transmission of monetary policy, the matter has become a key focus of ECB press conferences. Thursday's briefing saw 32 references to Italy, beating the 24 mentions of inflation, which is core to the institution's mandate.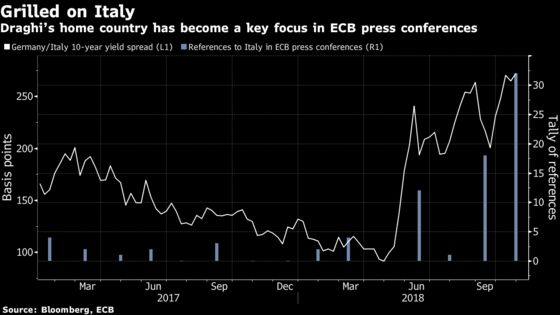 Asked about everything from his assessment of the situation's severity to his recommendations for the Italian government, Draghi said he's "still confident that an agreement will be found" between Rome and European Union officials in Brussels. He also urged politicians to follow "policies that lead to a reduction in the spreads" and not to "question the constitutional existential framework of the euro."