Super Bowl Is Key Proving Ground for a Slimmed-Down Fox
(Bloomberg) -- Sunday's Super Bowl is Rupert Murdoch's chance to prove his smaller, leaner TV company is still big enough for the NFL.
After selling the Fox movie studio and several cable networks to Walt Disney Co. last year for $71 billion, the new Fox Corp. is pinning its future on live sports, news and events -- especially pro football, the all-important American Sunday ritual. On Monday, Fox Sports 1 began broadcasting 12 hours a day live from Miami ahead of the most-watched event on TV. It's also using the airtime to highlight Fox coverage of Nascar racing and WWE wrestling.
While the promotions are designed to attract viewers and fans, the ultimate audience is National Football League team owners and executives, who'll be watching to see what Fox can do with the big game at a time when traditional TV audiences are shrinking. The league will soon begin negotiations on new broadcast contracts that start with the 2023 season. Those are critical talks for Fox, which spends about $1.7 billion a year on NFL rights.
"There's nothing more important to our company than the NFL," said Mark Silverman, president of Fox's national sports networks.
At a nine-acre compound Fox created in Miami Beach for the event, team officials, NFL executives and fans can ride a Ferris wheel based on Fox's hit show "The Masked Singer." Or they can get their pictures taken with Lego versions of Fox Sports personalities. "Lego Masters," a new competition show, debuts on Wednesday following the Super Bowl.
As part of its broadcast, the Fox TV network will air an interview with President Donald Trump by Sean Hannity during the pregame show Sunday, when tens of millions of viewers are tuned in. A floating billboard at the beach promotes the Fox News Channel, which arranged for Chris Wallace to host "Fox News Sunday" from Hard Rock Stadium, where the San Francisco 49ers and Kansas City Chiefs will battle for the NFL title.
In many ways, the promotion is reminiscent of the first Super Bowl that Fox carried in 1997. The company organized extensive coverage from the host city, New Orleans. It was the first network to update score, time and down information live on screen, after snatching rights to NFC games from CBS.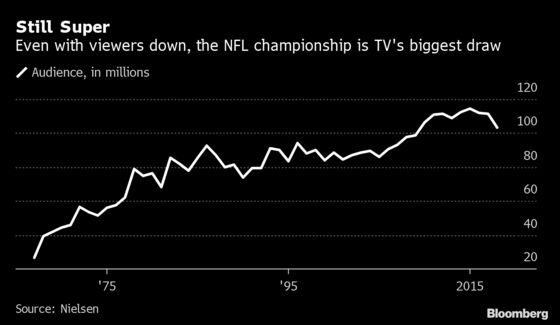 "I never saw someone come and embrace the community the way Fox did," said Jim Steeg, an NFL executive at the time. "We joked they started the pregame show in September."
That first broadcast helped legitimize the fledgling Fox network. Under the current contracts, the game has rotated annually between Fox, CBS and NBC.
Fox and the other networks seeking renewed NFL rights are likely to face higher costs. The TV audience for the NFL this season rose 5% -- the second straight yearly gain after drops in 2016 and 2017. Fox, which airs games on Sundays and Thursdays, did even better, up 7%. The next round of bidders is also expected to include more technology companies.
"Every broadcaster and streamer would love to have NFL programming," said Marc Ganis, co-founder of Sportscorp Ltd. and an adviser to the league. "Every single one."
In the new round of negotiations, the league is expected to ask would-be partners about their plans for showing games online, as well as their strategy for sports betting, which is expanding across U.S.
Fox has taken steps on both fronts. Last year, the company started Fox Bet, an online wagering platform, with the parent of PokerStars. Fox said its online sports viewing rose 21% last year, to 21 billion minutes. The company also said it will deliver the Super Bowl in ultra-high definition for the first time, including through its Fox Now app and through streaming devices such as Amazon Fire TV.
In a hiccup for Fox's online-distribution strategy, Roku Inc. said Friday that it was pulling all Fox channels from its streaming devices amid a contract dispute. Fox responded in a statement, "We would urge them to stop the intimidation tactics and reconsider the merits of irritating their best customers in pursuit of Roku's own interests." Roku said in a blog post that it was in talks with Fox and hoped to resolve the standoff.
The network sold out its Super Bowl ad inventory for as much as $5.6 million for a 30-second spot.
Silverman, the Fox executive, declined to say how much the company was spending on the big game or how much it expects to earn from it. But he said it was worth it.
"We'd be happy to do this on annual basis," he said.