Summers Lauds Biden Infrastructure Plan After Attacking Stimulus
(Bloomberg) -- Former Treasury Secretary Lawrence Summers, who emerged in recent weeks as a liberal dissenter over President Joe Biden's massive stimulus efforts, strongly endorsed the administration's long-term economic plan.
"I'm particularly excited about the infrastructure program, I'm particularly excited about the green aspects," Summers said Wednesday, after the plan was unveiled, in an interview with Romaine Bostick on Bloomberg Television's "Wall Street Week."
"It's what the country needs. This is all very much on the right track," he said.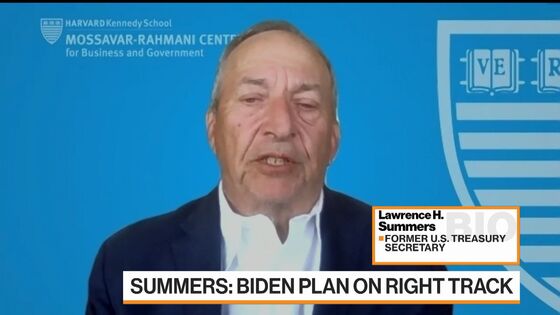 Summers, a top economic official in both the Clinton and Obama administrations, had roundly criticized the $1.9 trillion pandemic relief legislation signed into law earlier this month, calling it the "least responsible" macroeconomic policy in decades. By pumping too much money into the economy just as it's poised to pick up steam, Summers said, Biden risked triggering high inflation.
He had no such worries over the next phase of Biden's plan, which would pour $2.25 trillion into infrastructure, green investments, manufacturing, research and development, workforce development and a number of other initiatives over the next eight years.
"These are investments that are going to pay off in a growing economy, and are going to, I think, generate significant tax revenues down the road that they have not taken any credit for," he said.
"Very little of this money is going to be spent in the next several years when I think overheating is a substantial risk," Summers added. "So I think this is very, very much in the right direction."
Biden administration officials such as Cecilia Rouse, chair of the White House Council of Economic Advisers, have countered criticism of earlier stimulus -- including direct checks to households -- by saying the potential risk of inflation is outweighed by the need of families to put food on the table or bridge job losses now.
Summers, now a professor at Harvard University, dismissed worries that Biden's long-term economic plan announced Wednesday would damage private investment by raising the corporate tax rate. Biden's proposal would be paid for, the administration said, by raising the corporate tax rate to 28% from 21% and setting a 21% minimum tax on global corporate earnings.
"I don't think its plausible to argue that this is going to damage investments," he said.
Summers is a paid contributor to Bloomberg.