Suicide Bomber Strikes Tunis, Adding to Nation's Political Crisis
(Bloomberg) -- A woman blew herself up in central Tunis on Monday, wounding nine people and shattering the relative calm that had enabled a fragile recovery in the nation's key tourist industry.
The suicide bomber was a 30-year-old woman with no militant background known to authorities, Tunisia's Interior Ministry said in a statement on its website. The casualties included eight police officers and a civilian, it said. The attack appeared to target a police vehicle on Habib Bourgiba street, the iconic main artery in the capital, according to ministry spokesman Sofian al-Zaaq.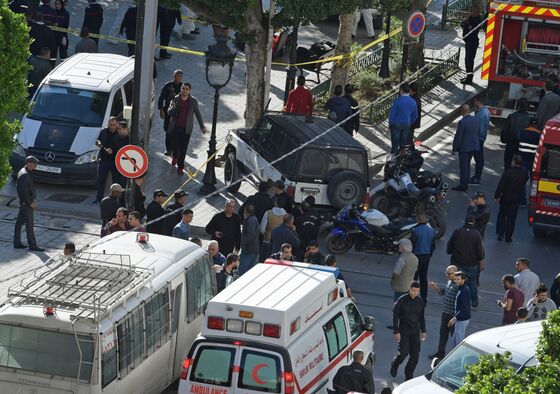 Police cordoned off the area with yellow tape as a team of forensic experts in white jump suits sifted through the side street where the bombing took place, adjacent to the Municipal Theater.
Often hailed as a rare success story in the uprisings that swept the Middle East in 2011, Tunisia has seen its transition from dictatorship to democracy hampered by high unemployment, terrorist attacks and labor strife. Unemployment, a key catalyst for the uprising that ousted President Zine El Abidine Ben Ali, remains at around 15 percent and among young Tunisians it's double that level.
President Beji Caid Essebsi said the "painful" attack was a reminder that the country has yet to defeat militants whose targets have included security forces and tourists, while the coalition government's two most powerful parties are locked in dispute.
"We're preoccupied with power struggles and which party will win, only for today's events to remind us of Tunisia's real problems," he told the official El Wataniya television station.
The latest attack would be the most significant strike in the capital in years. There was no immediate claim of responsibility for the bombing.