Studios Are Profiting by Busting White Men's Monopoly on Big Screen
(Bloomberg) -- Studios are putting a more diverse set of faces on the big screen, and it's paying off.
More than 40% of the 100 best-selling films in 2019 had a female lead character, a historic high, according to a study released Tuesday by the USC Annenberg Inclusion Initiative at the University of Southern California. And almost a third of the top films had a lead or co-lead actor from an underrepresented racial or ethnic group, also the highest since USC started tracking data in 2007.
Diversifying the characters appearing on screen paid off. Walt Disney Co., which incorporated the highest percentage of females and minorities of all the major studios, had a banner year. On average, the films that included a nonwhite lead character earned $1.3 billion at the box office for Disney, making them some of the biggest sellers of all time.
"It is clear that Hollywood is taking steps to create more inclusive stories and that those films are connecting with audiences," said Stacy L. Smith, the founder of the USC Annenberg Inclusion Initiative, in an emailed statement.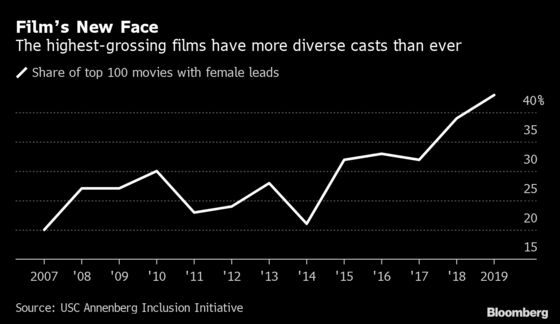 While the study showed that more broadly representative stories connect with audiences, that hasn't yet translated into diversity in industry awards. In this year's Oscars, coming on Sunday, only one nonwhite person is among the 20 actors competing for the four acting awards. And no women were nominated in the best-director category, though an earlier study showed the percentage of female directors rose to a record high of 11% last year.
The study also found that acting is a young woman's game. Though 43% of the 100 top-grossing films in 2019 had a female lead, only 3% had a female lead who was over 45 years old.