Strong Shekel Forced Record Levels of Central Bank Intervention
(Bloomberg) -- The Bank of Israel bought $4.4 billion dollars in foreign currency during December, the most in one month since at least 2009, in a bid to slow the appreciation of the shekel.
Despite the outsized purchases, which brought total central bank intervention in 2020 to $21.2 billion, the shekel strengthened 7.5% last year against the dollar -- the sixth-most among a basket of 31 major currencies tracked by Bloomberg. Central bank Governor Amir Yaron said foreign-exchange purchases will continue as necessary this year.
The fresh round of currency purchases brought Israel's total reserves to a record $173.3 billion, or 43.3% of output, and Yaron has said the level of reserves won't limit the current policy
Israel's currency is seen driven by factors including the current-account surplus and foreign investment in the tech sector
Earlier this week, the shekel reached a 24-year high against the dollar, as the outlook for economic growth in 2021 rises on the back of Israel's world-leading vaccination campaign
Monetary policy officials have cautioned the strong currency could act as a drag on inflation and exports, but Yaron said this week that service exports have been notably good during the current crisis, and recently there has been a recovery in goods exports as well
The shekel was trading little changed Thursday afternoon in Tel Aviv, at about 3.18 per dollar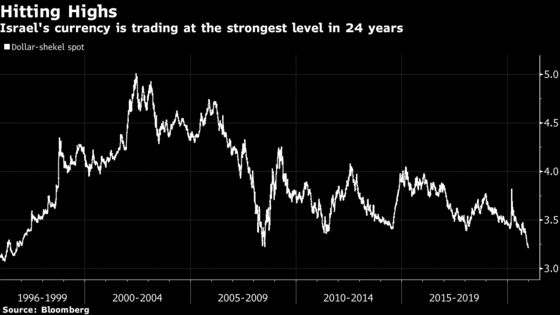 For an explanation of the shekel's strengthening trend, and why the Bank of Israel has had difficulty slowing its appreciation, check out this question-and-answer.