The Strong Dollar Is Drivings Profits for U.S.-Focused Companies
(Bloomberg) -- A strong dollar is boosting the earnings of domestically focused companies in the S&P 500 Index more than those with foreign exposure, according to a study by Bank of America Merrill Lynch.
The valuation gap between the U.S. and other global equity markets is at an all-time high, according to a report by the bank. The S&P 500's forward price-to-earnings ratio rose in July and August and is now at its highest level since February, the report noted. The benchmark hit an all-time peak on Sept. 20.
Among global markets, the U.S. is the only region with more positive earnings revisions than reductions over the last three months, wrote Savita Subramanian, head of equity and quantitative strategy at Bank of America Corp.'s Merrill Lynch unit.
"U.S. earnings trends have been stronger than in the rest of the world," said Jill Carey Hall, one of the equity strategists who worked on the note. "We had tax reform in the U.S. which was a big benefit to earnings."
Within the U.S., a stronger dollar is driving a greater divergence in earnings revision ratios between purely domestic companies and those with foreign exposure, with ratios declining for foreign-facing corporations, wrote Ben Randol, the bank's senior foreign exchange strategist. Indeed, Randol found that a 1 percent appreciation in the U.S. trade-weighted dollar reduced the earnings revision ratio for multinationals by 0.2 percent.
"It's a fairly important result because the dollar has appreciated about 7 percent since the second quarter started, and a substantial portion of these effects have yet to be seen in the data," he said in an interview.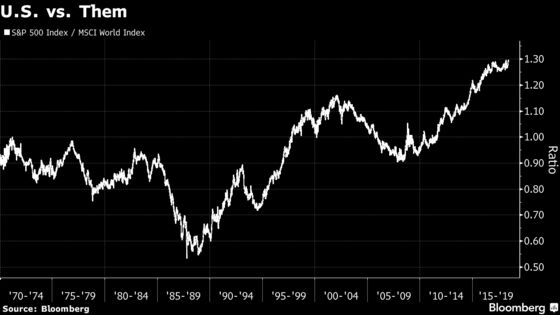 Meanwhile, the MSCI All-Country World Index excluding the U.S. fell 2.3 percent in August. On earnings, the S&P 500 trades at premium to Europe, Japan and emerging markets.