Strong Demand for Treasury Auction Shows Limits of Bear Case
(Bloomberg) -- Investors piled into the U.S. Treasury's monthly 10-year note auction Tuesday, revealing the limits of bearish sentiment unleashed by last week's U.S. Senate runoff elections, which had pushed 10- and 30-year yields to the highest levels since March.
The auction yield was the highest since February. But at 1.164% it was nearly a basis point lower than the notes' 1.172% yield in when-issued trading just before the 1 p.m. New York time bidding deadline, a sign that demand exceeded dealers' expectations. Bidder participation metrics also were strong, and by mid-afternoon the yield had dipped back to 1.14%.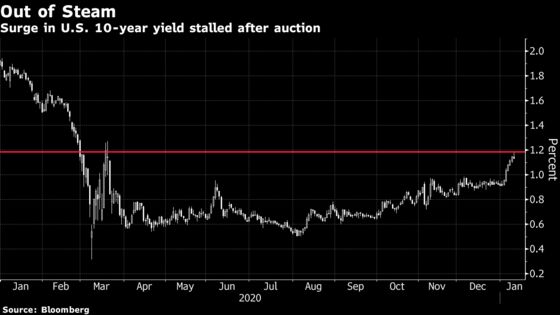 The $38 billion auction was the second reopening of the 10-year note that matures in November 2030. The issue debuted at 0.96% and ended 2020 trading at 0.913%. Tuesday before the auction it touched 1.1855%, within 10 basis points of the benchmark's March high.
The main catalyst for this month's selloff -- which sent the 30-year bond's yield to within two basis points of its March high Tuesday -- was last week's elections that gave Democrats a majority in the Senate, clearing a path for President-elect Joe Biden to deliver on promises of expanded pandemic relief measures. Also helping steepen the curve, several Federal Reserve officials in the past week have said they're open to slowing later in 2021 the pace at which the central bank has been buying Treasury securities.
Related story: A Treasury Steepener on Steroids Is Seen Amid U.S. Taper Talk
A $24 billion 30-year reopening Wednesday's concludes this week's cycle of note and bond auctions. The yield on the long bond remains around 24 basis points higher since the end of December despite retreating to about 1.88% after the 10-year auction from a session high 1.913%.
Additional demand is expected to emerge at the March highs for the 30-year, between 1.92% and 1.93%.