Stolen Treasure Trove Hidden in Plain Sight at Luxurious Villa
(Bloomberg) -- The statues had disappeared from public squares, cemeteries and churches in Chile for years. Now, authorities know where they went -- the landscaped gardens of an exuberant mansion just south of Santiago.
Chilean police have recovered 49 sculptures hidden in plain sight on the La Punta estate, plus two silver chests and dozens of pre-Columbian hunting artifacts. The authorities are continuing to register a property the size of 60 soccer fields.
"It's bizarre, something strange happened," National Heritage Minister Felipe Ward said in an interview on Television Nacional this week. "An individual appropriated objects that belong to all Chileans."
The owner of the estate, local businessman Raul Schuler, had done little to hide the statues. In fact, he allowed the local online newspaper to do a Hello Magazine-style photo shoot of his house, including images of the stolen sculptures. "The marvelous country estate of La Punta and its dream garden," the newspaper wrote, next to a picture of Schuler on a white horse. Unsurprisingly, a reader spotted one of the stolen statues and wrote to another newspaper.
Schuler hasn't been arrested, partly because the law in Chile doesn't sanction the trafficking of national monuments and the police haven't proved he stole them. The businessman hasn't commented publicly and the phone registered to his company has been disconnected.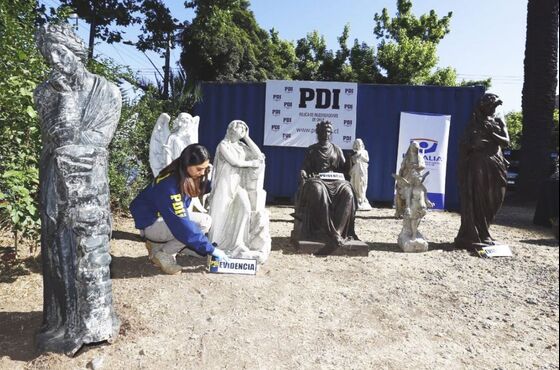 Among the statues found in the Versailles-inspired gardens was "La Republica," made in the 19th century at the Val d'Osne forgery in France, famous for producing sculptures that decorate Parisian squares and Central Park in New York. The iron statue weighs in at 180 kilograms (396 pounds) and was stolen in 2003 from a square in the city of Valparaiso, right in front of the Chilean Naval Academy.
The loot also includes at least eight Italian Carrara marble statues stolen from a Santiago cemetery and one that had belonged to the city's oldest church. The gardens and some of the sculptures were the backdrop to a vampire movie filmed in 2008.
"This is not a crime committed in an isolated way, or a one-time thing," prosecutor Emiliano Arias told the media this week. "We are talking about a crime perpetrated by an organization that has people in charge, people stealing and people transporting -- this is not just one individual."
The three-story mansion also housed military relics from Chile's Pacific War against Peru, 4,000-year-old fossils, indigenous Mapuche totems and pre-historic stone arrow tips.
While police haven't finished searching the mansion and its gardens, they estimate that the combined value of the 49 statues in the black market starts at about $11 million.