Final Stocks `Wash-Out' Needed to Jump Back in Market, AMP Says
(Bloomberg) -- Developed equity markets have moved beyond fundamentals after their October pummeling, opening up buying opportunities once trader sentiment bottoms out, in the view of Australia's AMP Capital.
While some investors have been roiled by the worst sell-off in global shares in more than six years, there's nothing to suggest equities were going into a prolonged bear market, said Debbie Alliston, who oversees A$90 billion ($64 billion) as head of portfolio management at AMP Capital in Sydney. Alliston's funds were neutral global equities, though she's starting to consider adding positions after the recent sell-off, she said.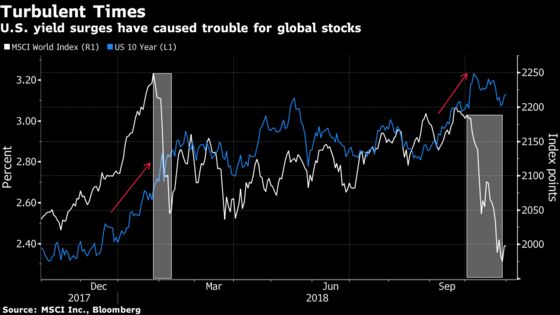 "We're more likely to be buying risk than taking it off,'' though the timing isn't quite right to dive in, she said. "We're not really seeing the market having washed out enough'' at this point. "Sentiment has probably not been beaten up enough to go back in'' just yet. Once the final wash-out does come, "we'd probably look to buy the basket'' of MSCI developed-market stocks, she said.
The MSCI World Index of developed stocks has slumped about 12 percent from its high in January, with the bulk of that reflecting a 7 percent-plus tumble for October, the steepest monthly slide in more than six years. Alliston said she was "quite nervous" about the U.S. equity market, where she has been underweight. Even as other developed-nation benchmarks retreated this year, American ones hit records as recently as September.
Alliston also warned that financial markets are "complacent'' about inflation risks in the U.S. Her funds are "biased to be underweight'' bonds, and the question is "should we take more off the table,'' she said.