Stock Market Beats the Beach as Hamptons Homebuyers Hold Out
(Bloomberg) -- Hamptons beachgoers haven't been in a buying mood this year.
Home sales in the Long Island vacation towns fell for a third straight quarter, dropping 13 percent from a year earlier in the three months through September, appraiser Miller Samuel Inc. and Douglas Elliman Real Estate said in a report Thursday. The biggest decline was for properties priced below $1 million, where transactions tumbled 22 percent, the most in three years.
Anyone weighing the discretionary purchase of a second home has had a lot to consider this year: new federal tax laws that have made owning real estate more costly, rising mortgage rates and a stock market that had been promising better returns. Would-be buyers in the Hamptons, many of whom work in New York's financial industry, appear hesitant to cash out their gains just yet.
"People have their money in the stock market, it's liquid, they're doing very well, so it makes sense to maybe leave your money there for a while," said Cia Comnas, who oversees sales in the Hamptons for Brown Harris Stevens. The brokerage's report on the market, also out Thursday, showed a decline in both the number and total value of sales.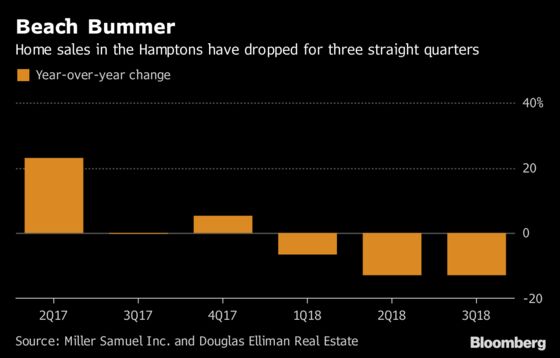 The new tax law -- limiting federal deductions on state and local levies to $10,000 and mortgage-interest deductions to loans of up to $750,000 -- doesn't have as direct an impact in the Hamptons, where taxes are relatively lower and many purchases are made in cash, Comnas said. But the changes have hit hard in the primary-home markets where the buyers come from.
"People in Westchester buy second houses in the Hamptons, and people in Manhattan buy second houses in the Hamptons," Comnas said. "It impacts our market when those markets slow down."
While there were fewer sales in the Hamptons, the median price of what did change hands in the quarter increased 15 percent to $1.03 million, according to Brown Harris Stevens, suggesting a larger number of sales on the high end.
Buyers of lower-cost homes "are more price-sensitive and they are certainly more dependent on mortgages," said Carl Benincasa, a regional vice president at Douglas Elliman who oversees sales in the Hamptons.
Luxury sellers -- whose properties are in the top 10 percent of the market -- saw the quarter as a good time to list their homes. The number of luxury properties on the market at the end of September jumped 40 percent from a year earlier to 452, a record in data going back to the end of 2011, Miller Samuel and Douglas Elliman said.
In some towns, big-ticket purchases offset the decline in total deals. In Montauk, sales fell 25 percent from a year earlier to 21, according to a report by brokerage Corcoran Group. The median price of those transactions jumped 28 percent to $1.24 million.
In Southampton, where sales slipped 4 percent to 67, the median price climbed 18 percent to $835,000, Corcoran said.