Stock Investors Bet Saudi Arabian Cement Will Rebuild Yemen
(Bloomberg) -- Saudi stock investors are increasing their bets that cement produced in the kingdom will be used to rebuild neighboring Yemen once the war in the country ends.
Shares of Southern Province Cement Co. and Najran Cement Co., which have climbed about 15 percent each in the past month, are set for further gains if the conflict can be resolved, analysts said.
Since 2015, a Saudi-led coalition has fought rebels believed to have ties to Iran in a war the United Nations said has caused the world's worst humanitarian disaster. Earlier this week, the Yemeni government agreed to take part in peace talks with Shiite Houthi rebels.
Yemen's annual post-war cement demand would range from 8 million metric tons to 10 million tons, assuming a decade of reconstruction, "which would be mostly met through imports," said Sameer Kattiparambil, an analyst at EFG-Hermes Holding in Muscat, Oman. "Southern Province Cement and Najran Cement would be direct beneficiaries, as these firms have close proximity to Yemen and can access the country by road," he wrote in a note earlier this month.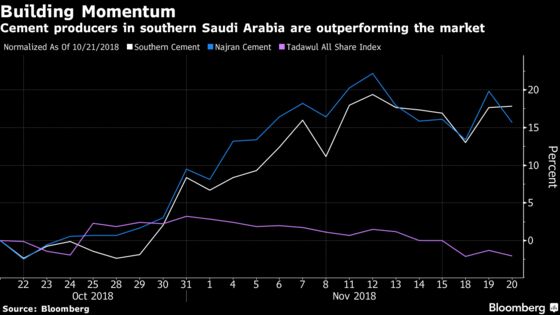 Here are more of Kattiparambil's views:
Eastern Province Cement, also traded in Riyadh, has a 32 percent stake in a Yemen plant valued at 124 million riyals ($33 million), which EFG-Hermes had written off in its financial analysis of the company. A ceasefire would be "a positive trigger."
An end of the war would indirectly benefit producers in western Saudi Arabia, as the supply of cement from southern companies would dwindle because of Yemeni demand, driving prices higher.
Oman's Raysut Cement Co. is another potential beneficiary, having exported cement to Yemen in pre-conflict times, and as the owner of cement silos in the ports of Aden and Mukalla.
Cement producers from countries with excess supplies, such as the U.A.E., Iran and Egypt, could also seek market share in Yemen.