Stock Bull Case Based on Bond Yields Finally Starting to Weaken
(Bloomberg) -- A prevailing case buttressing the record-setting equity rally is losing some of its luster.
While stocks appear richly priced against reported profits, their valuation could be framed as reasonable when compared with the bond market, which had seen yields stuck near record lows. Such has been the thinking of everyone from equity bulls to Federal Reserve Chair Jerome Powell.
But as yields on 10-year Treasury notes spiked above 1% on Wednesday, the allure of equities became threatened. The S&P 500's earnings yield -- an inverse of the index's price-earnings ratio -- has seen its premium over Treasury yields shrink to 2.22 percentage points, the smallest spread in more than two years.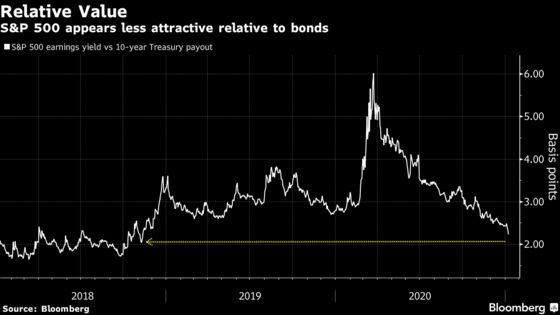 In a market where chasing momentum is all the rage, the erosion doesn't seem to bother equity investors, at least not yet. In fact, economically sensitive stocks such as banks have led the rally this week, as high rates are viewed as signifying a strengthening economy.
But in some corners, warnings are resurfacing that a continued rise in bond yields could put a lid on the valuation-driven rally, particularly for highly priced stocks such as technology.
"We are still sanguine on Corporate America. We're also very optimistic on vaccines. Our main problem is rates and multiples," Vital Knowledge founder Adam Crisafulli wrote in a note. "As Covid is defeated and nominal growth improves, yields will increase, and some of the P/E expansion will inevitably reverse."
Yields on 10-year Treasuries rose for a third straight day, reaching a 10-month high of 1.08%, as Democrats won control of the U.S. Senate, possibly unleashing federal spending that will boost the economy. Stocks also advanced, lifting the S&P 500 to a record. At 30 times reported profits, that translates to an earnings yield of 3.3%.
With the Democratic Party's fiscal agenda of $1 trillion of stimulus in play, economists at Jefferies project that the package will boost economic growth by roughly 2 percentage points over the next two years while pulling forward the Fed's first rate hike from 2024 to early 2023. That means, they say, 10-year Treasury yields can double from current levels to 2% by the end of this year.
"Equities are long duration assets and the hurdle for high P/E stocks will rise," said Sean Darby, global equity strategist at Jefferies. "The rotation into the cyclical value trade has further room to run."
The potential headwind from higher rates isn't insignificant, according to Mike Wilson, chief U.S. equity strategist at Morgan Stanley. By his team's calculation, an increase of 1 percentage point in the 10-year Treasury yield from current levels could lead to an 18% decrease in S&P 500's P/E multiples. That would imply a loss of a similar size in the market should profits remain the same.
"While such an abrupt increase in interest rates is unlikely, we wouldn't rule it out," Wilson wrote in a note earlier this week. "The point here is that asset prices are looking rich at the moment given the upside risk to interest rates and very low chance they fall further in the absence of some bad economic developments."