States Race to Ready Covid-Era Balloting Ahead of November
(Bloomberg) -- A steady stream of elections beginning this month will give officials a peek into what administering 2020's main event may look like as some states push for more federal aid to prepare for voting in the wake of Covid-19 pandemic.
Through September, elections will be held in 45 states and the District of Columbia to decide everything from mayoral contests to presidential primaries, according to the National Conference of State Legislatures. Many are taking steps now, months earlier than usual, to prepare for the November presidential contest, as officials look to avoid missteps made in states that have held elections during the pandemic.
At least seven people in Wisconsin have been diagnosed with the virus after the state's Republican legislature overruled calls by Governor Tony Evers to postpone its April primary and a poll worker in Illinois tested positive and died after working the March 17 primary. States need to provide personal protective equipment for poll workers, enforce social distancing, ensure that vote-by-mail is an option and secure enough resources to properly count votes, said Danielle Root, associate director of voting rights and access to justice at the Center for American Progress.
"Wisconsin should really serve as a warning to all elected officials," Root said. "It is critically important that we start planning now to ensure we are ready for November. The best option right now is to plan for the worst."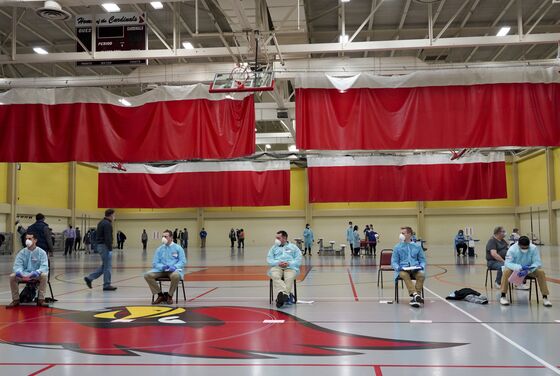 Even as states begin reopening and easing back into normalcy, they will likely still have to take precautions until there is a vaccine. There are still concerns about a second wave of the virus in the fall and winter, even as case counts begin to fall in some parts of the country. House Democrats are considering a fund for voting by mail in the November elections.
The first federal relief bill included $400 million for states' election preparation and response to the pandemic. But states will need five to ten times more to conduct November's elections with robust mail-in options and safe in-person alternatives, according to estimates from the Center for American Progress, the Brennan Center for Justice at New York University Law School and state officials.
Only five states -- Colorado, Oregon, Washington, Hawaii and Utah -- have universal vote by mail in place, according to the Center for American Progress. States like Arizona and Wisconsin have laws supporting these options, but the heavy lift will be strengthening infrastructure to handle a surge in activity, said Wendy Weiser, director of the Democracy Program at the Brennan Center for Justice.
"It's a massive job," said Weiser. "Our polling places are going to need to be made safe and need to practice social distancing, and just those two changes alone are going to require dramatic changes to our election infrastructure technology and management that our election officials are not prepared for."
Even though more than half of Arizona voters already vote by mail, the state still needs more funds, said Secretary of State Katie Hobbs. Arizona, which holds its primary in August, needs to ensure it has the sanitation supplies and staffing necessary to run in-person voting locations smoothly, while enforcing social distancing, she said.
"Federal help will be important," Hobbs said. "We've been talking among secretaries of states and among congressional delegations -- $400 million is a down payment on what the actual need is going to be."
Georgia, which is scheduled to head to the polls in June and August, has already spent $5 million, or about half of the money it received through the CARES act provision, according to Secretary of State Brad Raffensperger. The state expects to spend more money on sanitation and protective equipment for polling stations, he said. Georgia mailed out absentee ballots to all 6.9 million of its active voters, but the state's voters are relatively inexperienced with absentee voting. In 2018, less than 10% of voters used mail ballots, according to the Federal Election Assistance Commission.
Michigan, poised to be a major swing state in the November election, will test its capabilities in its May 5 local elections. The state has sent out absentee ballots to every registered voter in the state, according to Tracy Wimmer, a spokeswoman for Secretary of State Jocelyn Benson. Typically they only send them to those who request them. The state needs another $40 million to provide absentee ballots for its contests in August and November, according to Wimmer.
"A lot of the states that have the necessary polices lack the infrastructure -- almost no state is super well prepared," said Root. "We cannot afford to wait until September or October to get ourselves together."