Startup Gains Backing for First U.K. Fighter Jet Since 1970s
U.K. aerospace startup Aeralis Ltd. secured 10.5 million pounds ($15 million) in backing from a Middle Eastern wealth fund as it seeks to develop the first fully British military jet since the 1970s.
Aeralis announced the investment from the sovereign fund which it didn't identify at the DSEI expo in London Wednesday, advancing prospects that the model will find buyers in lucrative Gulf defense markets. Rolls-Royce Holdings Plc said it will supply engines.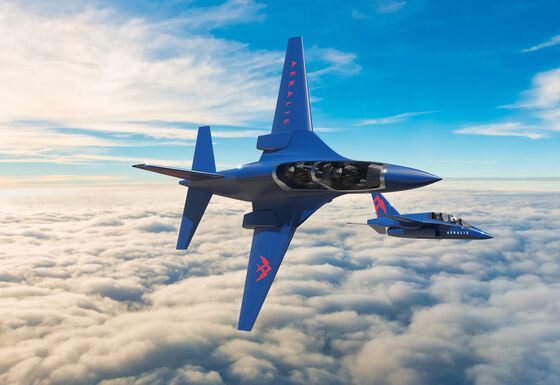 Aeralis is taking a modular approach that will allow the jet to be tailored for a range of missions, from training to light combat to air shows, with different wings, engines and mission systems built around a common frame and avionics. 
The Mideast investment will fund the manufacture and testing of the jet's first design within three years, Chief Executive Officer Tristan Crawford said in an interview. It also marks a "significant step" toward raising the money needed to get the jet through to certification, he said, and is already helping to advance investment discussions with U.K. public and private funds. Service entry is targeted for around 2027. 
Aeralis has a three-year contract with Britain's Royal Air Force to develop its aircraft as the potential successor to the BAE Systems Plc Hawk trainer, including replacement of the Red Arrows display fleet, and is also discussing opportunities with a number of other air forces. Gulf nations are among the biggest users of the Hawk.
The Hawk, first flown in 1974, was the last military jet to be fully designed and built in the U.K. Originally manufactured by Hawker Siddeley, it was subsequently produced by British Aerospace and BAE Systems.
As it eyes replacing that model, Aeralis is betting that prospects for a U.K. deal will be enhanced by a focus on innovative design and national defense capabilities following Brexit, as well as value in military procurement. It's planning five designs, with the order to be determined by relative demand once the basic trainer is built.
Aeralis said Wednesday it signed a memorandum of understanding with Rolls-Royce on the supply of engines for pre-production aircraft.