Startup Behind Faulty Iowa Election App Linked to Top Democrats
(Bloomberg) -- The Iowa caucuses were a key test for the cottage industry building campaign and election technology for the Democratic Party headed into the 2020 election season. As chaos and recriminations erupted Monday night over problems in reporting results, it became painfully clear what failure could look like.
At the center of the storm was Shadow Inc., a little-known software company, and Acronym, a Democratic political operation that launched in 2017 to much fanfare on the promise it would help the party catch up to the Republicans in digital prowess.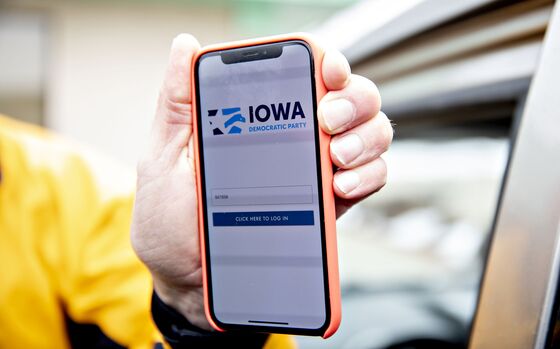 Shadow built the tool for precinct captains to relay the vote totals from the caucuses, the first chance voters had to weigh in on the Democratic field. But many volunteers had trouble using the app and resorted to calling in their results to the Iowa Democratic Party, jamming the phone lines and leading to a delay in declaring a winner. The failure led for calls to abandon attempts for digital voting in any U.S. elections.
In addition to the voting app, Shadow builds technology to enable political campaigns to communicate with supporters via text messaging. The campaigns for Joe Biden and Pete Buttigieg have both used Shadow. As scrutiny over the voting app mounted, supporters of other campaigns raised questions about how a company that had taken money from some candidates could be trusted as an impartial broker.
In a tweet Tuesday afternoon, Shadow took responsibility for the party's inability to announce results Monday. "The underlying data and collection process via Shadow's mobile caucus app was sound and accurate, but our process to transmit that caucus results data generated via the app to the IDP was not," it said, referring to the Iowa Democratic Party. Shadow's Chief Executive Officer Gerard Niemira didn't respond to emails or phone calls.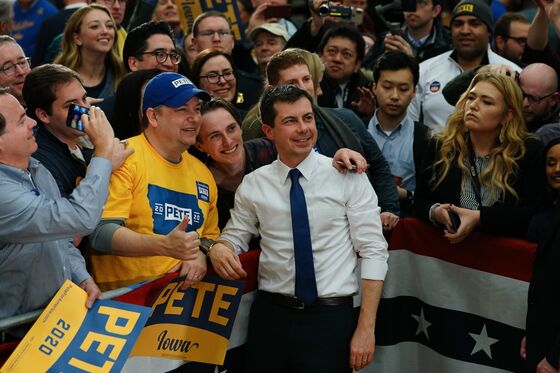 While few people had heard of Shadow before, Acronym has become an increasingly prominent name in Democratic politics by offering itself up as an answer to President Donald Trump's prodigious digital effort. David Plouffe, former President Barack Obama's campaign manager, is on the board.
Acronym acknowledged it had taken a stake in Shadow, but distanced itself from the company after the problems in Iowa. Acronym described itself in a statement as a nonprofit organization, and "an investor in several for-profit companies across the progressive media and technology sectors. One of those independent, for-profit companies is Shadow, Inc., which also has other private investors."
The statement significantly downplayed Acronym's ties to Shadow, which is run by Acronym's former chief technology officer. The company grew out of another startup called Groundbase, which built messaging tools for Democratic political campaigns. Acronym acquired Groundbase last year. The startup's products were incorporated into Shadow, which Acronym said it "launched" last year.
Acronym changed the language on its website from saying "we launched Shadow" to "we invested in Shadow." Meanwhile, after the delay became apparent, on MSNBC Plouffe downplayed his ties. "My relationship with Acronym has been going on for a few months. I have no knowledge of Shadow," Plouffe said. "It was news to me."
In a post that has since been deleted from Acronym's website, Niemira wrote that the company would "exist under the ACRONYM umbrella and build accessible technological infrastructure and tools to enable campaigns to better harness, integrate and manage data across the platforms and technologies they all use."
Public filings show that Acronym's political action committee, Pacronym, shares a mailing address with Shadow.
The problems on Monday weren't the first sign of trouble at Shadow. Its text-messaging app had proven prone to glitches and more difficult to use than competitors', according to a person who worked with campaigns that used it. Biden's campaign canceled its work with Shadow after having security concerns.
People who build technology for Democratic political campaigns expressed concern that high-profile problems in Iowa would cause campaigns to pull back on all kinds of technology. Shadow's app, which was created over several months, seemed to have been rushed out and insufficiently tested.
"Campaign strategists must commit to technology early," said Shomik Dutta, a partner at Higher Ground Labs, a firm that invests in political technology, in a statement. "New apps should not be built in the final stretch and volunteers should not be asked to make a download on caucus day."
Higher Ground Labs acknowledged in a statement that it had backed a precursor company to Shadow, while distancing itself from the Iowa voting disaster.
Since the 2016 election, many people associated with the Democratic Party have called for the construction of a lasting tech operation that would build or facilitate the creation of campaigning tools and harden the party's cybersecurity defenses. Jessica Alter, the co-founder of Tech for Campaigns, a nonprofit that builds technology and provides volunteers for Democratic campaigns, said the Iowa caucus is a depressing illustration of the party's inertia on technology. "This is an unfortunate but real example of why we need a single tech and digital arm for the Democrats," she said.
While there is broad consensus among Democrats that they need more advanced tools, the performance of Shadow's app in Iowa has hardened the opposition many people have to the insertion of digital technology in the voting process itself. Democrats in Nevada, the next caucus following Iowa, had been working with Shadow. On Tuesday, the state's Democratic Party said they didn't plan to use its app.
(Disclaimer: Michael Bloomberg is seeking the Democratic presidential nomination. He is the founder and majority owner of Bloomberg LP, the parent company of Bloomberg News.)