Stars Align for U.K Long-Bond Sale as Demand Meets Tight Supply
(Bloomberg) -- The U.K.'s sale of long-dated debt could hardly have come at a better time.
Investor orders for the country's six-billion-pound ($8.3 billion) sale of 30-year bonds totaled 69 billion pounds on Tuesday, just one billion pounds short of the record for the maturity set in June.
It follows a selloff that has helped boost the appeal of the securities, and comes amid the prospect of limited supply after the Debt Management Office trimmed its sale forecast for the fiscal year more than expected last week.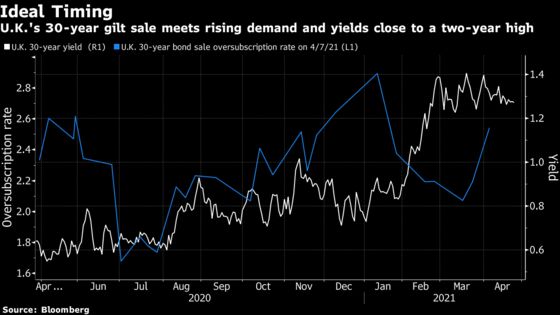 The U.K's successful vaccination drive has allowed the pandemic-battered economy to gradually reopen, pushing the yield on 30-year notes close to levels last seen almost two years ago. That's piqued investor interest, with the over-subscription rate for conventional sales rising to the highest in three months in April.
The offering via banks was expected to attract strong interest from "liability-driven funds," Aaron Rock, an investment director at Aberdeen Standard Investments, said ahead of the sale on Monday, citing a notable improvement in their funding ratios and relatively "attractive" outright nominal yields.
U.K. domestic investors took around 89% of the allocation, according to the DMO, compared with 91% in the sale in June. "We have been able to bring the gilt to market in significant size, thereby establishing a strong base from which to build a new benchmark maturity," CEO Robert Stheeman said in an announcement following the sale.
Still, Mizuho International Plc is recommending investors short 30-year gilts on expectations that the Bank of England will taper its bond purchases at its meeting next month. They see buying dropping to around 3 billion pounds per week, from 4.4 billion pounds currently.
The sale was priced at 1.5 basis points above existing securities.