Standard Chartered Leaves Investors Waiting for Return to Growth
(Bloomberg) -- Standard Chartered Plc shares fell as it set out a return to growth after the Covid-19 pandemic that was slower than some of its rivals.
The London-based lender said it continues to expect earnings to be little changed on the full year but that growth should reach its expected range of 5% to 7% in 2022. Rivals such as HSBC Holdings Plc have recently taken a more bullish stance on how quickly the global recovery is taking hold, likely leading to higher lending and interest rates.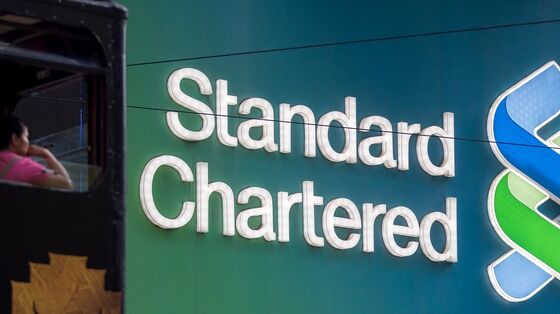 Underlying pretax profit at the Asia-focused bank rose 44% in the third quarter to $1.08 billion, beating a company-compiled forecast, after a rise in trading income. However, analysts at Morgan Stanley said net interest margins were a little disappointing and pointed to the lack of update on capital returns. 
Standard Chartered is also taking a cautious view on bad loans. Provisions sank to $107 million in the period, yet this was double what analysts expected. Banks set aside billions of dollars in the early stages of the pandemic as they braced for a wave of customer defaults that has not yet arrived, leading some to release their charges. 
Shares of the bank fell as much as 6.4% in early trading in London. 
What Bloomberg Intelligence Says

The story remains much as previously, with the promise of 5-7% revenue growth to begin in 2022, and wider jaws than the 2% delivered at 3Q. We continue to believe more is needed on costs as the bank waits for the environment to bail out revenue. Guidance for $10.4 billion of expenses for this year implies no change to consensus, though we suspect revenue estimates may be trimmed a little.

-- Jonathan Tyce, senior analyst, EU banks. 
Chief Financial Officer Andy Halford said the group expects to benefit from central banks eventually raising interest rates after almost two years at rock-bottom levels during the pandemic. "Having higher interest rates is definitely better," he said in an interview with Bloomberg TV. "As we look forward, we have said every 100 basis points of improvement in interest rates on a full year basis is worth just over $1 billion to our bottom line."
Demand for loans held up well in the quarter, with StanChart's income from structured finance products alone rising 54% compared to the same quarter a year ago. Halford said that trade finance was "buoyant" over the period. 
Chief Executive Officer Bill Winters is now six years into a turnaround of the bank, having disposed of assets while focusing growth efforts on digital services around the world. Last month, the bank showcased some of its main projects such as Mox, its Hong Kong virtual bank, as well as other technology ventures to analysts. 
More Earnings Highlights:
Net interest: $1.74 billion vs $1.62 billion a year ago
Financial Markets: $1.32 billion vs $1.19 billion
Wealth Management: $559 million vs $572 million
Standard Chartered said in an investor presentation it had $4.2 billion of commercial real estate exposure related to China, with $800 million booked on mainland and $3.2 billion in Hong Kong. Meanwhile, it had no direct exposure to developers that breached all three "red lines."