Stable Coin Backed by Circle, Coinbase Draws Most Early Demand
(Bloomberg) -- The cryptocurrency supported by a consortium that includes Circle Internet Financial Ltd. and Coinbase Inc. appears to be the early favorite among the recent slate of high-profile digital coins marketed as being coupled to the U.S. dollar.
More than $127.4 million of USD Coin, as the so-called stable coin is known, have been issued since its September debut, according to crypto data tracker Etherscan. Introduced the same month, Paxos Standard has garnered $108 million in funds, while Gemini Dollar received nearly $13 million, according to Etherscan.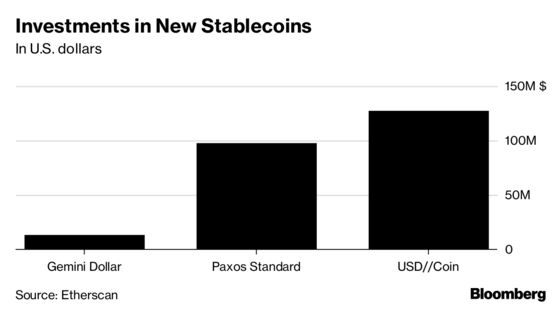 Stable coins -- and more than 50 than have been put out so far, with more in the works -- are enjoying a surge in demand amid a prolonged downturn in cryptocurrency prices. With crypto market leader Bitcoin down by more than 50 percent for the year, some traders are parking funds in stable coins, which are being advertised as maintaining parity to the fiat currency they are pegged to, while awaiting the next bull run.
"I will say that USD Coin is the most native to the crypto world, with the least connections to traditional finance," Aaron Brown, a business author and investor who writes for Bloomberg Opinion, said in an email. While other coins depend on the business success of their issuers, "USD Coin can survive on its own," he said.
USD Coin is different from the others in that it's not tied to just one company. A consortium called Centre will serve as a platform for users to make deposits from traditional bank accounts, convert fiat currency into tokens issued by members to facilitate transactions and provide the ability to shift back to the greenback.
Traders have long poured their money into the sector's 800-pound gorilla, Tether, but the stable coin market leader's recent struggles are giving rivals an opening. Concern has increased that Tether, with a market capitalization of $1.9 billion, may not be fully backed by U.S. dollar reserves, as it's issuer claims, and its value has recently been deviating from $1.
"Tether, battered as it is, is still vastly larger in market cap and usage volume than all the others put together," Brown said. "Although it trades at a discount and the others trade at a premium, I don't count it out."