Shake Shack's Plan to Open in Philippines Sends This Stock Soaring
(Bloomberg) -- Shake Shack Inc. is stirring up shares of SSI Group Inc. after the burger chain founded in New York selected the upscale Philippine retailer as its local partner.
News that the world famous ShackBurger will be served in Manila beginning in the spring of 2019 sent shares of licensee SSI rising as much as 18 percent, the most in more than two years. Volume surged more than 3,500 percent above the stock's three-month daily average.
Shake Shack, in a statement, said it selected SSI Group as its Philippine partner because of its retail expertise and culture of hospitality. SSI is the largest retailer of luxury brands like Hermes, Prada and Gucci in the Southeast Asian nation and has also expanded into dining through TWG Tea and SaladStop!.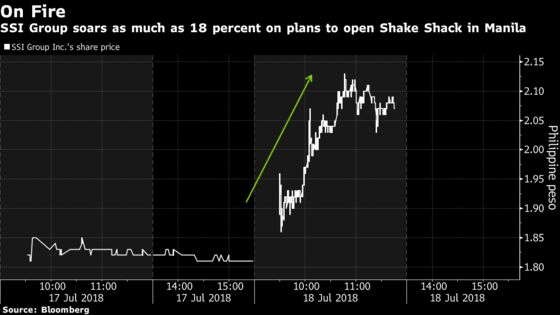 "Manila is an incredible city; its heart beats with a distinct warmth and hospitality," said Michael Kark, vice president of global licensing at Shake Shack, in a statement. "We are excited to begin the search for our first site in Metro Manila."