Sri Lanka Keeps Key Rate Steady as Inflation Accelerates
(Bloomberg) -- Explore what's moving the global economy in the new season of the Stephanomics podcast. Subscribe via Pocket Cast or iTunes.
Sri Lanka kept its benchmark interest rate unchanged, even as inflation accelerated to the highest level in four months.
Governor Indrajit Coomaraswamy held the standing lending facility rate at 8%, the Central Bank of Sri Lanka said in a statement in Colombo on Friday. The decision was predicted by all six economists surveyed by Bloomberg.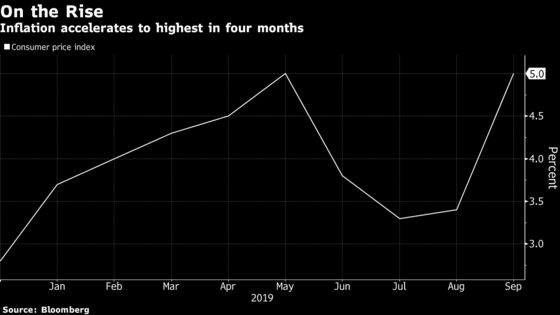 The central bank maintained the standing deposit facility rate at 7%
Consumer prices rose to 5% in September, the highest level since May, but was still within the central bank's desired range of 4%-6%. The central bank said Friday that it expects inflation to remain within that level
Policy makers have cut rates twice this year -- in May and August -- to bolster economic growth, hit by the Easter Sunday bomb attacks that killed more than 250 people
While economic expansion slowed to a more than five-year low of 1.6% in the quarter ended June, the central bank sees growth recovering gradually
Any further reduction in rate would likely increase foreign outflows from the country, leading to further depreciation of the rupee, First Capital Research in Colombo said in a note before the announcement
On Sept. 24, the monetary authority ordered banks to lower market lending rates to help enhance the efficiency of the transmission of previous rate cuts
On Friday, the central bank said it expects faster reduction in bank lending rates
Today's rate decision is likely the last before presidential elections scheduled for Nov. 16 and comes amid intensifying global risks and monetary easing
To read the full statement of the central bank, click here