Sri Lanka Holds Rates to Spur Growth Despite Inflation Angst
Sri Lanka left borrowing costs unchanged for a second straight meeting, sticking to a pledge to hold rates steady to spur economic activity and boost revenues despite simmering angst over rising prices.
The Central Bank of Sri Lanka on Thursday left the standing lending facility rate steady at 6%, a decision predicted by three of the seven economists surveyed by Bloomberg. The remaining four expected an increase of either 25 or 50 basis points.
The monetary authority also left the standing deposit facility rate at 5%, while holding the statutory reserve ratio at 4%.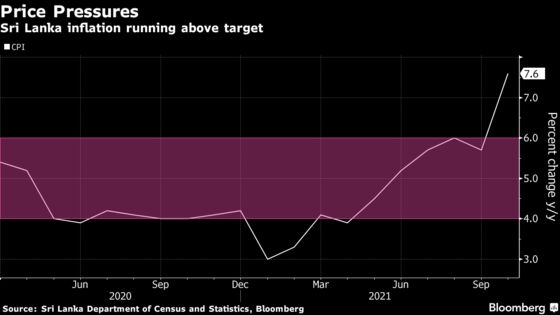 After leaving rates unchanged in October, Governor Ajith Nivard Cabraal signaled the bank would hold steady for some time to support an economic recovery. 
That pledge has been challenged by growing public frustration over rising prices and shortages. Thousands of opposition supporters protested last week in the capital Colombo, the first major campaign against President Gotabaya Rajapaksa's government since it swept to power last August.
"A further acceleration of headline inflation is possible in the immediate future, although such movements are expected to be transitory," the central bank said in a statement Thursday. Monetary policy steps already taken "will help curbing excessive demand pressures and preventing the buildup of adverse inflation expectations."
Headline inflation has cruised past the central bank's 4%-6% target amid a weakening currency, lifting of price caps on some goods to prevent hoarding, and a hit to agriculture from a ban on chemical fertilizers.
Sri Lanka faces $1.5 billion of debt maturities next year, while efforts to shore up the foreign exchange pile -- at the lowest since 2009 -- haven't yet succeeded. The South Asian nation is also looking for a revival in its Covid-hit tourism industry and remittances, with the reopening of the country after an extended lock down.
The government, which has curbed imports to conserve foreign exchange, has said it's working on an array of measures to increase dollar inflows, including government-to-government deals and stipulations on repatriations by exporters.