Square Slides as Street Wonders If It's 'Running Out of Steam'
(Bloomberg) -- Square Inc. fell as much as 9 percent in early trading Thursday as analysts worked to reconcile a strong first quarter with a less impressive forecast for the current period and thinner revenue growth in the second half of the year.
Square has climbed about 40 percent from a December low, though it has mostly traded within a range for the past three months.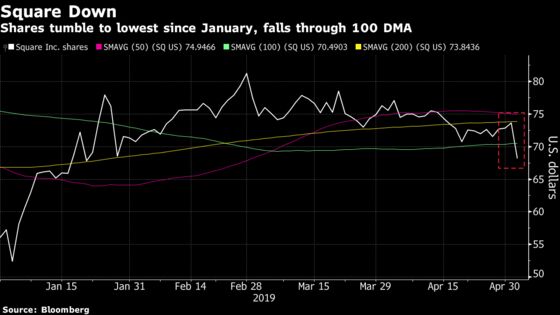 "This beat and raise story appears to be running out of steam," Raymond James analyst John Davis wrote in a note to clients. Although first-quarter EPS results beat consensus estimates due to strong subscription and services revenue, Square's outlook for the current quarter was weaker than expected.
"Although we continue to believe there is nothing 'wrong,' we simply think the stock is unlikely to maintain its current valuation," Davis said. "As such, we continue to recommend investors reduce positions."
Still, analysts are largely mixed on Square, with Bloomberg data showing 18 buy ratings, 16 hold-equivalents and 4 recommendations to sell. Here's what others on Wall Street are saying:
Bernstein, Harshita Rawat
The No. 1 "controversy of the quarter" is Square's softer forecast as outperformance in the subscription and services segment is starting to be overshadowed by weaker core-transaction revenue and margins. The second is decelerating growth in the company's gross payment volume, which "raises questions re Square's ability to continue to meaningfully outpace the market in a fiercely competitive merchant acquiring space."
PiperJaffray, Jason Deleeuw
Believes bullish expectations of revenue growth need to be tempered after Square boosted its full-year outlook while keeping its Ebitda guidance steady, which implies somewhat lower margins as the company invests. Still, expanding its merchant payment processing business and the Cash App and Cash Card will be positives for the stock.
Oppenheimer, Glenn Greene
Although the company's solid first-quarter growth is encouraging, "valuation remains our primary investment caveat," Greene wrote in a note to clients, maintaining a perform rating. Square's ecosystem and growth outlook are both positive, boosted by the strength of Cash App, Caviar, Capital and the instant deposit business.
The company'a core payments business and supporting products have a "long runway for growth with SQ entrenching itself as a one-stop shop for its merchants," Tandon wrote. The stock pull-back is being caused by more growth investments, which are resulting in some margin compression, but "momentum remains strong."
Square's market penetration and end-user growth are both positives for the company as it finds ways to "build out its ecosystem to serve the full spectrum of business needs." Following earnings, he expects further growth and margin expansion going forward, but has moderated his view on margins.
Guggenheim, Jeff Cantwell
With new products and the Cash App, Cantwell expects Square to maintain strong subscription and services-based revenue expansion. He raised the price target to $94 from $92, and said investors should buy the dip caused by underwhelming second-quarter guidance.
Organic growth in the subscription and services segment is "an impressive result," especially as Cash Card and Cash App monetization, the Seller Card, Build with Square APIs and its international business are still in such early stages. Once more fully developed, those products and services could offer Square "multi-year tailwinds."
What Bloomberg Intelligence analysts say:

"Despite slowing payments-volume growth, Square's ratio of total net revenue to processed-payments volume has continued to rise, clearly indicating to us that the company has become the merchant-services provider of choice for small-to-midsized U.S. businesses, not just a payments processor."
--David Ritter, BI senior fintech analyst
Click here to view the research