Square's Miss May Not Be So Bad as Analysts See an Opening
(Bloomberg) -- After Square Inc. shares dropped more than 5 percent Thursday on a first-quarter forecast miss, the stock reversed and started rising as analysts maintained their positive outlook on the company's long-term growth.
Look "underneath the hood" for volume growth in sales of new products such as Square Register and Square Terminal, Guggenheim said. Moffettnathanson echoed the sentiment, saying the Cash App is just a small piece of the company and hardware sales will drive the future.
Shares of Square rose as much as 1.8 percent, extending a five-day rising streak and pushing the company's increase this year to 44 percent, about four times the return of the S&P 500 Index.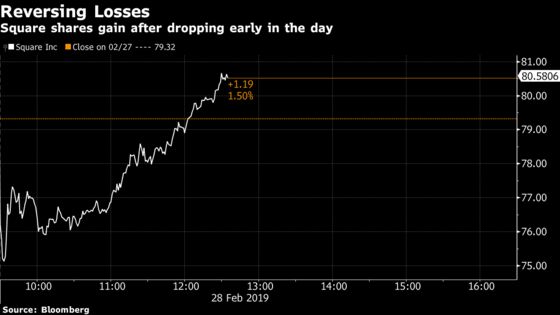 Here's what analysts are saying:
Moffettnathanson, Lisa Ellis
Square's distinctive growth rate will persist for the time being, but the stock will converge in valuation to its closest peers. Ellis has a neutral rating on Square and raised her price target to $77 from $71.
To get Square's stock moving positively again, she said the company needs to shift its focus from the Cash App and Square Card. While their numbers were impressive, the products are still small. Instead, management should focus on selling new capabilities in its core point-of-sale and payments systems, such as Square Register and Square Terminal.
Goldman Sachs, James Schneider
The quarter was broadly positive, and the stock should hold its recent gains based on solid fourth-quarter results and management's in-line 2019 forecast. Most notably in the quarter, the company's organic revenue grew 53 percent year-over-year, which was a modest deceleration from the 56 percent reported in the second quarter. Plus, gross payments volume from large sellers grew 39 percent, boosting it to more than half of Square's volume.
There continues to be "substantial opportunity for profit upside relative to the Street in the coming quarters as Square executes on its dual-pronged approach of driving higher penetration of larger merchants, while substantially increasing the profitability of smaller merchants."
Schneider said he remains bullish on the stock as it's one of the only companies in the market sustaining over 40 percent revenue growth while delivering margin expansion.
Rates buy, price target raised to $97 from $94
Guggenheim, Jeff Cantwell
Fourth-quarter results were a mixed bag, and the near-term reaction will likely be negative given the first-quarter guidance was below expectations. Cantwell recommended that investors "buy the dip" as the 2019 outlook left plenty of headroom. Plus, he said the underlying business momentum is strong, revenue growth is leading the industry, and earnings before interest, tax, depreciation and amortization will expand meaningfully in the first quarter.
Look "underneath the hood" for Square's future growth, Cantwell said. Hardware sales have been ticking up in the past three quarters following the launch of Square Register and Terminal. Those sales "will drive new payment volume to SQ over time and therefore will support a continued high rate of payment volume growth for the company."
Rates buy, price target trimmed to $92 from $96
Deutsche Bank, Bryan Keane
Even though growth decelerated for the first time in two years, it still outpaced guidance. Momentum continues to be solid in subscription and service-based revenues with the Cash App "now a meaningful driver of growth, impressively doubling the monthly active users" year-over-year to about 15 million.
Morgan Stanley, James Faucette
Faucette said he'd prefer upside coming from gross payments volume, or GPV, which is "better quality revenue than Instant Deposit or Square Capital." He prefers other payment companies, including Visa Inc., Mastercard Inc., PayPal Holdings Inc. and Worldpay Inc.
Remains equal-weight on Square with price target of $75