Sprint Earnings: Trick or Treat?
(Bloomberg Opinion) -- Normally, I'd say anyone searching last minute for a frightful Halloween costume could just go as Sprint Corp. But the wireless carrier wasn't looking quite so spooky Wednesday morning when it reported surprisingly decent third-quarter results—though it's likely a temporary phenomenon.
Sprint earned a net profit of $196 million, versus the loss analysts were expecting. Revenue rose despite a drop in postpaid phone subscribers and an uptick in churn, or the rate of customer deactivations. Overall subscriber metrics were aided by tablet users and hurt by the end of promotions from Sprint that coincided with competing offers from rivals. The stock popped 10 percent at the market open. 
It's not so much that investors are suddenly optimistic about Sprint's long-term future. The company is still barely keeping up with its peers, a group of companies that are more stable, have more scale and more favorable brand perception, and are better capitalized. Instead, it's that Sprint's earnings report may bode well for its merger with T-Mobile US Inc., which is currently being scrutinized by federal and state authorities. 
On the one hand, given the the transaction's history of meeting regulatory opposition, Sprint needs to give shareholders reason to believe the business can survive on a stand-alone basis should the sale to T-Mobile get blocked. On the other, the weaker Sprint looks, the higher the likelihood that the deal gets approved. And if you read between the lines of these latest results, what it reveals is a core business—phone customers—that's contracting and is reliant on cost-cutting to drive profit. Sprint also has about $35 billion in net debt, which exceeds the company's equity value.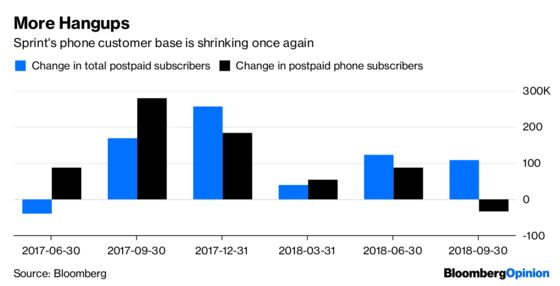 Sprint itself has said it doesn't have the resources to improve its network, and that it needs to team up with another player to be able to build out a nationwide 5G network that can compete with Verizon and AT&T. In fact, the upbeat nature of Wednesday's press release stands in total contrast to a gloomier presentation Sprint laid out last month for the Federal Communications Commission. The latter, while of course meant to earn sympathy from regulators, is probably a more accurate portrayal of the situation at Sprint.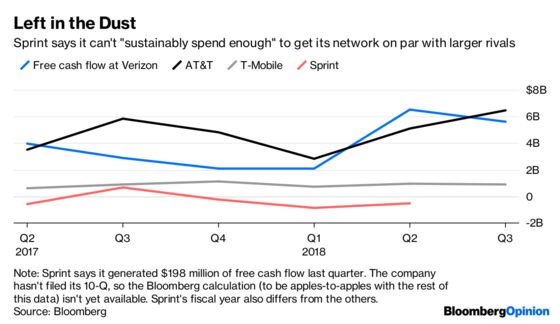 Regulatory scrutiny is still warranted. In fact, I've written that antitrust authorities should be concerned about how the merger will concentrate pricing power in the prepaid, or pay-as-you-go, wireless market, which caters to lower-income Americans. But in the grander scheme of things, Sprint needs to be rescued by a deal. And every earnings report until then will provide more evidence of that, rosy headlines or not. 
This column does not necessarily reflect the opinion of the editorial board or Bloomberg LP and its owners.
Tara Lachapelle is a Bloomberg Opinion columnist covering deals, Berkshire Hathaway Inc., media and telecommunications. She previously wrote an M&A column for Bloomberg News.