Spotify Dances to a Slow Waltz in an Up-Tempo World
(Bloomberg Opinion) -- Given that the music streaming revolution is supposed to just be starting, Spotify Technology SA's latest earnings report is somewhat discordant.
The Swedish company on Thursday slightly reduced its full-year expectations for monthly active users and gross margin. Investors recoiled, sending the stock down as much as 11 percent, below the price at which it initially sold shares to the public in April.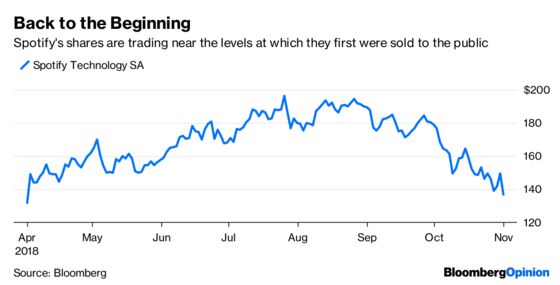 It would love dearly to be the S on the end of FAANG stocks, as Facebook Inc., Apple Inc., Amazon.com Inc., Netflix and Google parent Alphabet Inc. are sometimes known collectively. Indeed, Spotify has sought to convince investors that it's the music industry's equivalent of Netflix.
But investors have become accustomed to those companies regularly blowing them away with growth numbers that far exceed expectations. Don't get me wrong: Spotify is still growing, with revenue jumping 31 percent in the third quarter. But earnings were broadly in line with expectations, and in the tech world, where hyperbole rules, even a middling performance is an invitation for punishment.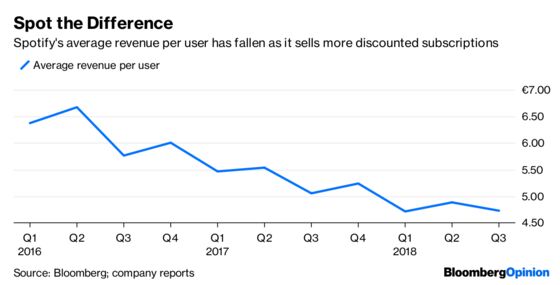 The continuing decline in average revenue per user is a serious cause for concern, hitting 4.73 euros ($5.40), down from a 2016 peak of 6.67 euros. That's largely driven by the trend toward family and student subscriptions, which are discounted. While the decline has slowed, it's a worrying trend at this stage in its development.
Spotify has 87 million paying subscribers. It reduced its expectation for subscribers at the end of the fourth quarter to between 93 million and 96 million, down from an upper threshold of 97 million previously. Competition is mounting from deep-pocketed competitors Apple, Amazon and Google, whose respective offerings are under less pressure to be immediately profitable.
CEO Daniel Ek and CFO Barry McCarthy have offered little clarity on how Spotify plans to continue to grow significantly. When given the opportunity in a conference call to provide reasons for optimism, they demurred. Some choice examples:
How is a partnership with Samsung Electronics Co. Ltd. progressing?
"It's a very recent announcement."
How should investors think about Spotify's podcast investments?
"We are still very much in the early days of how the podcast marketplace will evolve."
How have new ad features affected user engagement?
"I think it's really too early yet to say. The early signs are encouraging, but there is still lots of noise in the data."
Much the same was true for questions about a potential investment in Vivendi SA's Universal Music Group and a giveaway of Google Home speakers. Research and development spending meanwhile jumped by more than half.
McCarthy told a conference in September that there are about 1.3 billion smartphones in the 65 markets where it's active and that Spotify is in 13 percent of those handsets. By 2021, that number will grow to 1.7 billion. Meanwhile, with every passing week, a new smart speaker is introduced somewhere in the world.
With so much potential upside, investors have every right to be concerned about how Spotify is going to pick up the tempo.
This column does not necessarily reflect the opinion of the editorial board or Bloomberg LP and its owners.
Alex Webb is a Bloomberg Opinion columnist covering Europe's technology, media and communications industries. He previously covered Apple and other technology companies for Bloomberg News in San Francisco.