Spotify Briefly Touches Record Low But Goldman Still Says Buy
(Bloomberg) -- Spotify Technology SA momentarily brushed up against a record low on Tuesday, following global technology stocks that were also briefly pummeled.
While the broader market continues to weigh on Spotify, which fell as much as 5.8 percent before bouncing back, Goldman Sachs believes that its "leading position across a growing number of platforms and geographies will ultimately drive share price outperformance."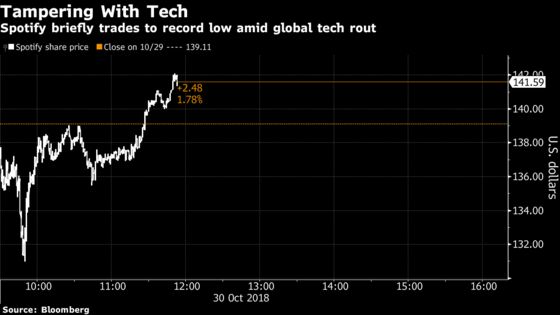 Still, analyst Heath Terry lowered his price target to $200 per share from $230, "to reflect multiple compression across the comp group," according to a note to clients. Goldman maintains a buy rating on Spotify.
With Spotify's third-quarter earnings report scheduled for Thursday before the U.S. market opens, Goldman Sachs anticipates continued strength in subscriber growth with a Premium subscriber estimate of 87 million. Also on the higher end of Spotify's guidance range, Terry sees the music streaming service reeling in EU1.36 billion in revenue for the quarter.