Speed of Euro's Revival May Surprise Forecasters in 2020
(Bloomberg) -- The euro may take pundits by surprise next year by climbing faster than expected.
The common currency is seen rising to $1.12 by March before a steady ascent to $1.16 by the end of 2020, up from around $1.1065 now, according to a Bloomberg survey. Yet some analysts could be underestimating the prospects for fiscal stimulus, a growing chorus against the European Central Bank's sub-zero interest rates and the potential for a pick-up in volatility that would threaten the viability of using the euro as a funding currency for carry trades.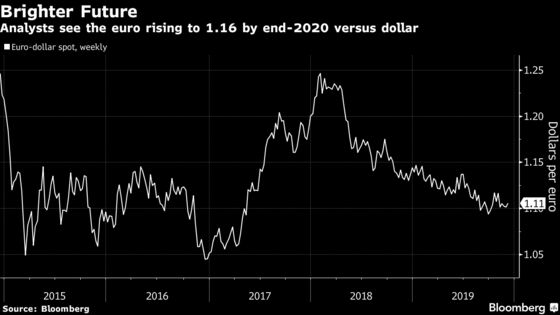 An increasing number of banks are becoming more optimistic on the euro's 2020 prospects. Morgan Stanley is the most bullish on Wall Street, betting on the euro rallying nearly 5% to $1.16 in the first quarter as one of its top trades. ABN Amro Bank NV and Commerzbank AG also see a faster climb to $1.14 by March, as the region's economy stabilizes and Brexit uncertainty fades. And options traders are betting on gains for the common currency.
The new ECB President Christine Lagarde, who will give her first policy meeting announcement Thursday, seems focused on the need for greater fiscal stimulus to tackle the region's growth and inflation troubles. She has acknowledged that "the ECB's accommodative policy stance has been a key driver of domestic demand during the recovery, and that stance remains in place," which in theory supports bets on further interest-rate cuts next year, as current market pricing suggests.
This sub-zero monetary stance is being increasingly challenged by euro-zone finance chiefs, complaining about its detrimental impact on savings and pension systems. And they are not alone. Pacific Investment Management Co. warns that negative rates may be doing more harm than good as they squeeze banks' profitability, depress market returns and create a "money illusion" in which savers feel poorer and thus cut consumption.
Policy makers counter that negative rates wouldn't last so long if governments did more to stimulate their economies. The ECB may end up tweaking its inflation goal to 2% over the medium term, which could finally result in a pick-up in inflation expectations. Then the market may need to start pricing in a move away from negative interest rates, effectively reducing the euro's allure as a funding currency.
Read More:
Mario Draghi Shackled Euro Volatility. He's Leaving With the Key
This year, the potential for a euro rally -- as predicted by strategists at the start of 2019 -- has been suppressed by the use of the euro as a funding currency. As Europe's bond yields are among the most negative in the world, when global risk appetite is high investors have sold the euro to buy higher-yielding assets elsewhere.
Yet some see this carry-trade idea as antiquated, and using the euro as a liability may not be the way forward. Positioning may be largely overstretched, given euro-funded carry trades resulted in returns for 20 of the 23 emerging-market currencies tracked by Bloomberg so far this year.
A drop in euro volatility to record lows supported these emerging-market currencies as they managed to overcome global risks this year and pare the losses seen in 2018. While traders may be facing a new era in currency volatility, where low expectations are the norm, current levels may not be sustainable for long.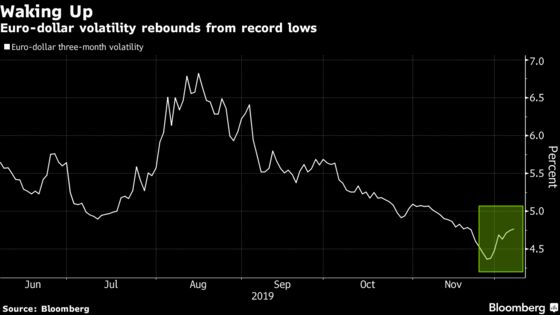 A repeat of price action following the summer of 2014, when volatility rebounded from then-record lows to enter a two-year bullish trend, could be due.
Current volatility levels reflect a wait-and-see stance by investors on trade talks and Brexit, so any resolution on those events, market friendly or not, may be accompanied by greater price swings that would hurt carry trade positions and therefore support the euro.
In the options market, bullish wagers over the one-year horizon stand at their highest level since April 2018, according to risk reversals, a barometer of sentiment and positioning. This has yet to be reflected in the cash market, which has deviated this year from a long-lasting correlation with options trading.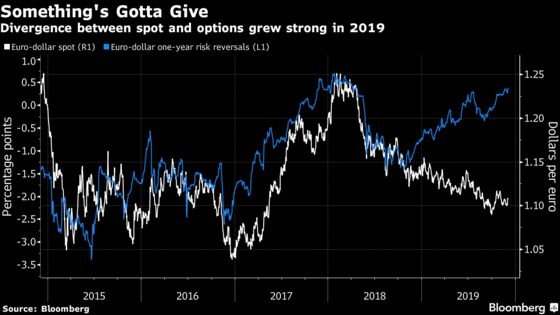 From a technical perspective, charts offer something to bulls and bears alike, with a slight bias on holding long positions. The euro is challenging a bearish trend channel that started in early 2018, with key resistance from its 55-weekly moving average coming at $1.1210.
A move above that would target $1.1412, the high on June 25. Failure to extend gains would signal the euro is currently at a powerful wave three of a major Elliot Wave formation that started in February 2018, which would eventually target a drop to $1.05.
Over the short-term, however, things are more clear, as the euro seems to have established a bottom at $1.0980-90 and looks to test its 233-daily moving average at $1.1186.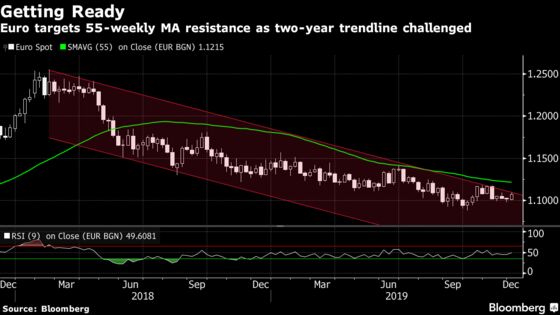 NOTE: Vassilis Karamanis is an FX and rates strategist who writes for Bloomberg. The observations he makes are his own and are not intended as investment advice